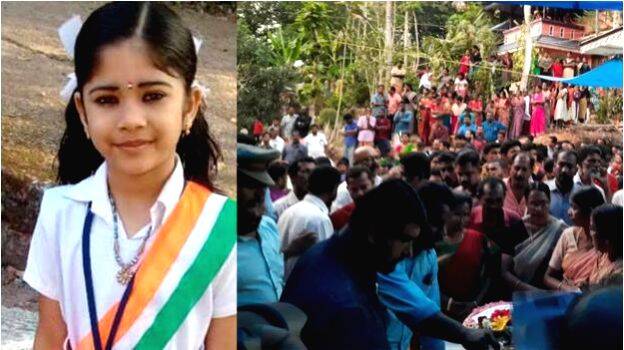 KOLLAM: Seven-year-old Devananda, who was found dead in a lake, was laid to rest at Kudavattoor here in the district on Friday evening.
Devananda was laid to rest near her father Pradeep Kumar's house at Kudavattoor. Earlier, the seven-year-old's body was kept at her mother Dhanya's house in Ilavoor and Vakkanadu Saraswathy Vidyalayam, where she studied in Class 1 for the public to pay respect.
Hundreds of people visited the houses and the school to get one last glimpse of the little girl.
The post-mortem was conducted at Thiruvananthapuram Medical College. Preliminary report suggested that Devananda had drowned. Traces of water and silt were found in her stomach and lungs. The forensic experts verbally informed the police about their findings. The post mortem procedure was captured on video.
A police squad led by Kannanellur SI reached the medical college. The body was brought to the medical college by 12. 30 pm. The procedures were completed at 2.30 pm following which the body was taken to Kollam.
The people in Kerala including Chief Minister Pinarayi Vijayan were shocked when her body was found in Ithikkara lake, just 200 metres away from her house, by police divers at 7.30 am on Friday.
Devananda had gone missing from her home on Thursday morning. Massive search operations were launched for the child.
Mud and water was found in her lungs and stomach as a result of drowning. However, nothing unusual was found in the examination of internal organs, the autopsy revealed. The details of the post-mortem conducted at Thiruvananthapuram medical college were verbally conveyed to police by forensic experts.
Devananda, nicknamed as Ponnu is the daughter of Dhanya and Pradeep Kumar. The girl was at home with her mother on Thursday morning. She went missing when Dhanya went behind the house for some household chores for just about five minutes.
Kerala police had launched a massive search operation to trace the missing child from Thursday. Fire and Rescue Service personnel carried out a search into the river on Thursday. But they did not get any clue on the girl who had fallen into the river.
"She was such a nice little girl and was the darling of our locality. We just cannot believe that she walked out of her home and slipped and fell into the lake. If so, then why did the divers who searched at the same place where her body was taken out today, missed it yesterday. We feel something bad has happened to her," said a neighbour.
No sexual assault has been reported in the preliminary autopsy report. The detailed report is expected in two days' time.
"We will continue our probe," said a top police official connected with the case.