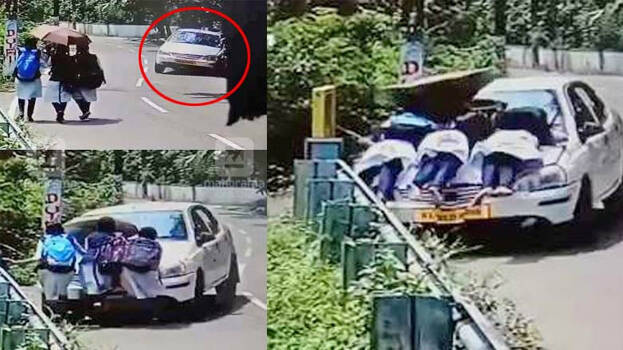 ALAPPUZHA: Alappuzha police on Tuesday said that the driver and the co-passenger of the car that rammed into a number of students and motorists at Poochakkal were in a drunken state at the time of the accident. It was Poochakkal native Manoj who was behind the wheels at the time of the accident while migrant worker Anand Mudoyi was his co-passenger. The two are currently undergoing treatment at Kottayam Medical College Hospital.
Meanwhile, reports suggest that the condition of one of the girls, who was hit by the car, is critical. The girl, identified as Anakha, has been transferred to the Medical Trust Hospital due to internal bleeding. She is a student of the Sree Narayana higher secondary school. Three other girls, who met the accident along with Anakha, have suffered fractures on their legs. The three, identified as Archana, Chandana and Rakhi, are undergoing treatment at the Kalamassery Medical College. On the other hand, the condition of the motorists Aneesh and his son are satisfactory.
The car, that was travelling at a high speed, lost control and rammed into the four students who were walking on the roadside. Following this, the car also went on to hit a bicycle. The incident happened at 2 pm on Tuesday. CCTV footage shows that the car was moving at a very high speed at the time of the accident.