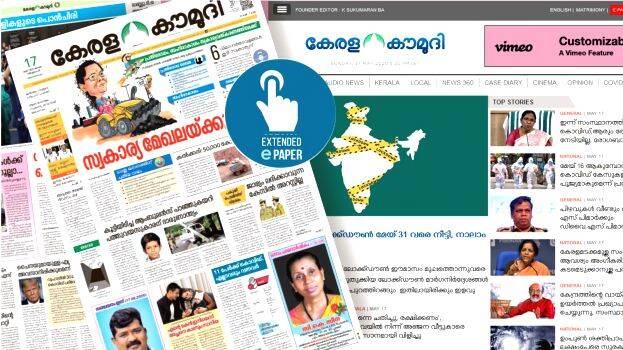 Keralakaumudi has been a trusted news source for over 109 years. Now, the media house is stepping onto the next milestone. As the world turns digital, readers want to access newspapers online. Keralakaumudi has been providing newspaper content through an e-paper facility for some time now. Malayalis around the globe can now access even more news with the extended e-paper.
Keralakaumudi e-paper will enrich the reader with a new experience on which they can listen to the news and even watch them. Those with a busy life schedule can listen to over 200 pieces of news daily.
There are separate local pages covering news on a district basis. Newspapers struggle to provide content due to space constraints which can be bypassed through e-paper. Readers can access more news content each day which is unavailable on dailies.
Readers can choose how they want to read the news-regular newspaper mode or text view mode. They can even change the size of the letter to their liking.
News can be also shared online with the click of a button. Keralakaumudi e-paper can be accessed as web edition or through the e-paper app. The app is available for download for Android and iOS.
Keralakaumudi extended e-paper is the result of combined work from the employees of Keralakaumudi Daily, Kaumudi Online, and Kaumudy TV. At present, the 24-page extended e-paper is available for free. In some time, the readers can access even broader content with 35-40 pages daily. The readers can pay a nominal amount to subscribe to the e-paper.
As we proudly present an innovative project, we are hopeful that our dear readers would warmly welcome it.