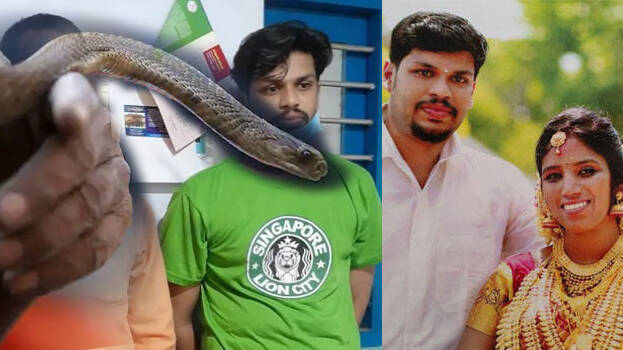 KOLLAM: The crime branch has found that Sooraj, the main accused in Uthra murder case, indulged in a luxurious lifestyle. He sold 15 of her sovereigns to lead a lavish life. He described about it to the investigating team while in their custody. He told them that he used to consume liquor worth Rs 2000 weekly. He used to buy liquor regularly from a bar in Adoor. Some of his close friends used to give him company.
The employees of the bar identified him when he was taken there for collecting evidence. The investigating team collected footages of Sooraj going after buying liquor. Sooraj along with his friends consume liquor in hotels, at his own home and at times in vehicles. Most of the times, he used to come home in an inebriated stat and then attack her. In addition to selling her gold, he used to spend his salary for his luxurious life. His household expenses were borne by his father.
He sold her gold at a jewellery shop in Adoor. The crime branch collected evidence from the shop. Her parents gave her 100 sovereigns of gold at the time of the wedding. 21 sovereigns of that were pledged to buy an auto for Sooraj's father. Ten sovereigns were in the locker and six sovereigns were pledged in the same bank. Sooraj's mother had many times pledged her gold. Three and a half sovereigns taken were handed over to the police the other day. The team were able to recover majority of her gold. After the marriage, both Sooraj and Uthra kept the gold in the locker. She had gone to Federal Bank only to keep the gold in the locker.
The locker was opened in the couple's names. Sooraj had taken gold from the locker many times that is before her death and after that. He took more gold on March 2. Of that, 38 sovereigns were handed over to this father and buried in a rubber plantation.
When he got hints that he would be caught, he handed over the gold to his father for the case. He wanted his aunt (father's sister) to keep the gold safely but the next day itself she handed it over to him. Following that, they buried in the plantation.