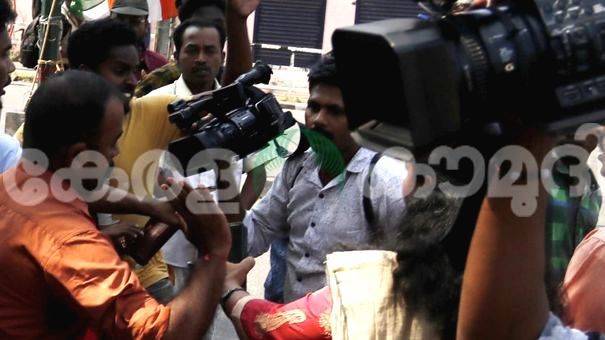 THIRUVANANTHAPURAM: Amid State-wide protests against the entry of two women in Sabarimala, about seven Mahila Yuva Morcha leaders barged into Secretariat through the Cantonment gate, breaching high security arrangement in the area.

The gate is a high security zone through which only vehicles of ministers and top officials are allowed to go in.

Allowing protestors inside the gate at the time when Chief Minister Pinarayi Vijayan usually leaves the Secretariat to have lunch is seen as a serious breach of security. Soon the police arrested the protestors and shifted them to Cantonement station.

Following this BJP and Yuva Morcha workers arrived at the station and sat in protest, demanding the release of the arrested workers

Protestors also heckled media persons and tried to snatch their cameras at the Secretariat gate, when they tried to shoot the visuals of the protest. Among camera persons there were also women.
Meanwhile, Sabarimala Karma Samithy asked shoppers at Kottarakkara to close their shops.At Neyyattinkara and Kochi Kutcherypadi, Sabarimala Karamasamithy blocked the roads.