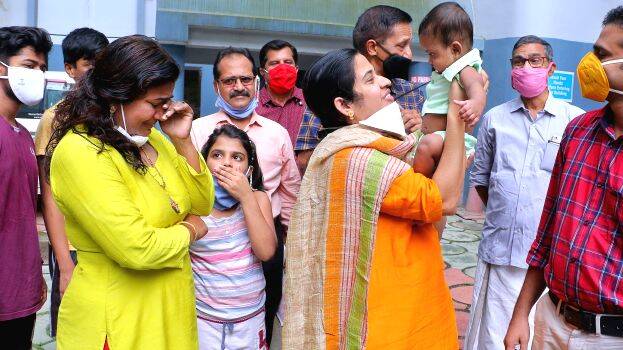 Amid trying times of Covid, this is a story that will melt any heart. After 30 long days, six-month-old Elvin sees his mother and jumps into her arms to receive her hugs and kisses. But, he turns back to look at her foster mother, as if to say something. But for his '30-day mother', this separation becomes unbearable. With teary eyes, she and her children bid adieu to Elvin.

This rare incident unfolded at Vrindavan apartments at Vyttila in Ernakulam.

After Elvin's father and mother tested positive for Covid, social worker Dr Mary Anitha took the responsibility of fostering the child for 30 days.

Elvin is the younger child of Perumbavur couple Eldose and Sheena. Eldose' disease was confirmed when he was in Haryana. As he went for treatment, he sent back his wife and kids to their hometown. But Covid didn't spare Sheena though it didn't touch her kids.
Their two –year old son was sent with his grandma but no one came forward to take care of the six-month-old child. The Child Welfare Board started looking for some reliable person to foster the child. Coming to know about this, Mary Anitha took up that great responsibility.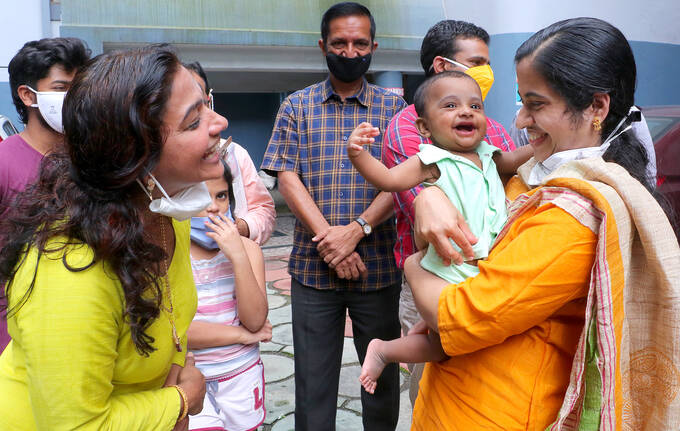 Anitha and the child first went under observation in a special room in Ernakulam Medical College. As the child tested Covid negative, Anitha along with him shifted to a rented flat. After spending some days there again under observation, she shifted her own flat nearby.
It was on Wednesday noon that Elvin's mother and father reached the flat to take back the child. While bidding farewell, Anitha and her children Nimrodhin, Manesa and Moushni could not hold back tears.

Dr Anitha is psychologist by profession and founder chairman of Centre for Empowerment and Enrichment that helps differently-abled children enter the main stream of societal life.