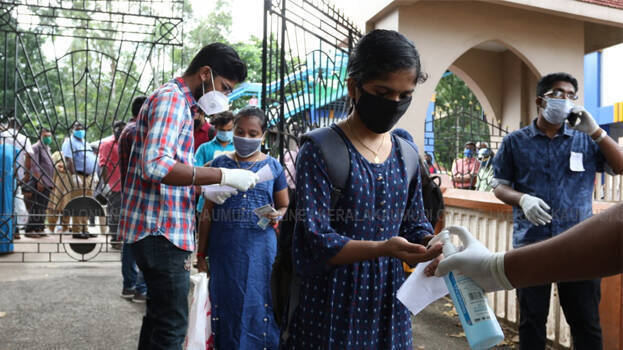 THIRUVANANTHAPURAM: Even as Kerala is witnessing a surge in the number of COVID-19 cases, the entrance examinations for engineering and pharmacy courses in the state commenced on Thursday. The exams that are held at 343 centres began at 10.30 am. While the first exam will end at 12.30 pm, the second exam is scheduled to take place from 2.30 pm to 5 pm. 20,000 persons including teachers have been given the charge of carrying out the exams.
The students were directed to wear masks and report at exam halls by 9.30 am. They underwent thermal scanning and were given sanitizers before entering the exam halls. The seats were arranged as per physical distancing norms.
Separate classrooms were arranged for students coming from other states as well as those from quarantine. Students hailing from the super spread area in Thiruvananthapuram are attending the exam at St Antony's HS, Valiyathura. KSRTC operated special services for students from all depots. The exam results will be published within August 15.