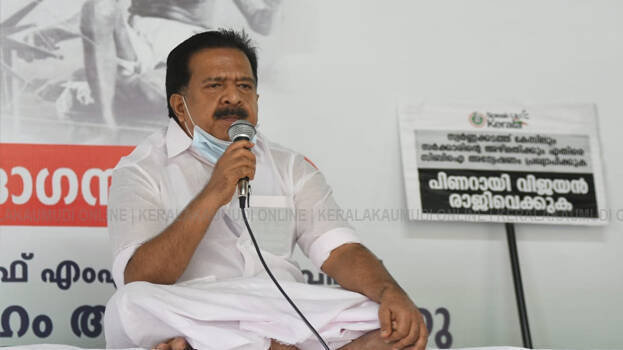 THIRUVANANTHAPURAM: The chief minister is protecting the corrupted, said opposition leader Ramesh Chennithala. He said the anti-corruption department is supporting corruption in the state and demanded the dismissal of vigilance and police intelligence. The chief minister should resign and face a CBI probe, Chennithala said during the 'Speak UP Kerala' satyagraha staged by UDF leaders seeking the resignation of the chief minister.
Chennithala said the chief minister has no morality to continue in power. He also scoffed that the state was ruled by a power-hungry chief minister. The office of the chief minister led the treason. Is the government ready to appoint a judicial commission like in the solar case? The officials engage in corruption because of incompetent governance. The office of the chief minister having a role in the gold smuggling is unfortunate, he said.
The NIA even reached the secretariat. The inquiry can reach the chief minister's office any time. The incident of the NIA probe reaching the office of the chief minister, has this happened anywhere else in the country, asked Chennithala. The principal secretary who worked for the chief minister all this time helped the gold smuggling team. The chief minister is not entitled to remain in power if he is unable to govern his own office. The NIA probe cannot be trivialised, said Chennithala and sought a CBI probe on all contracts of the government.