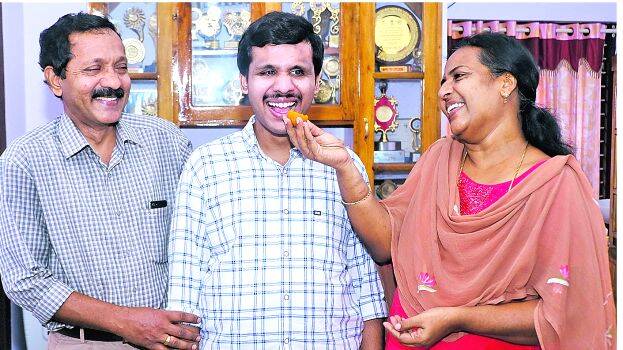 Visually challenged Gokul, who has fought out his debility to pass the Civil Service examination, has also broken a record. This only son of NCC directorate officer Suresh Kumar and Cotton hill higher secondary school teacher Shobha has become the first person to enter the family Civil Servants from the dungeon of 100 pc blindness.

A native of Thirumala, Gokul's phone has been busy with complimentary calls since yesterday. His parents had shifted to Thirumala from their own house at Kattakada only to aid his studies. He did his MA English in Mar Ivanios College after which he attended his Prelims. He took his main exam after joining Kerala University as a research student.

Gokul secured 804th rank at all India level.

His IAS ambition took wings when he was a degree student and his wish was to do good to society. What helped him write the exam was screen reading technology.

He depended on English channels to hear news. Incidentally, it was Kerala Kaumudi's mobile App 'Kazhcha' that opened to him the world of Malayalam news. It was his father who downloaded the app for him.

Gokul said special thanks to Kerala Kaumudi for its app that also has in-built audio version of news reports.

"Work hard…and behind all darkens, the doors of light will open on its own," - this is the only advice he has for others.