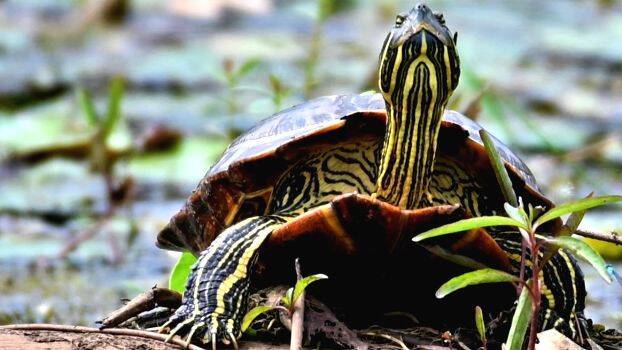 KANNUR: 'Cute villain'...this is the description that best suits for the red-eared sliders, a species of turtle that is currently being seen in some parts of Kerala. The turtle species, which is native to Mexico and America, is known to be a threat to the aquatic ecosystem. Recently, the red-eyed sliders were found in Kakkad river in Kannur and Chaliyar river in Kozhikode.
According to sources, these turtles, due to their large size and huge appetite, make bad pets and are eventually dumped into the rivers by owners of residential aquariums and pet shops.
While the import of the red-eared sliders is banned in various European countries, Australia has been witnessing awareness campaigns against the spread of this species.
A full-grown adult red-eared slider weighs 6 kg and it has the capability to eat everything from aquatic plants to fish. They also multiply fast and causes food scarcity for fishes and other living beings in the lakes.
It is also learnt that the red-eared sliders are threatening the existence of softshell turtles that are common in the rivers in Kerala.
Studies also claim that these turtles are carriers of salmonella bacteria and may cause the spread of an infection called Salmonellosis among humans.