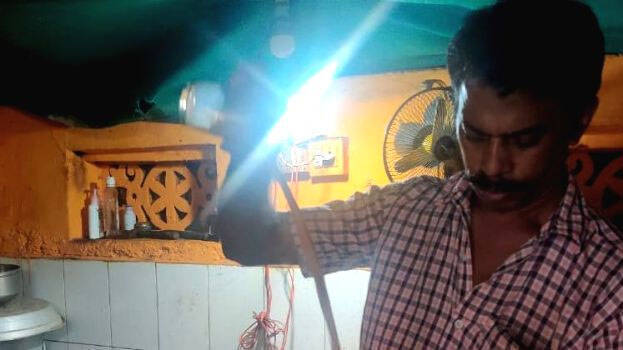 KOLENCHERY: Political differences will be withered away before the delicious dishes of this shop. One of the favourite destinations of politicians in Kerala—Sadanandan's shop at Pattimattom has been going on for the last 6 decades. Except the previous instances of shifting the shop to nearby places due to road construction, there have been no change in the shop's menu and its functioning time.
Presently, the shop stands before the Gurumandapam. The shop was started by Sadanandan's father Pottamkuzhiyil Krishnan in 1960. The menu included Dosa and Chatney, Parippuvada, Uzhunuvada, Pappadavada and Pazamboli and it continues till day without any change. Sadanandan started working in the shop, as a helper to his father, when he was just 10-years-old. Many shops have come and gone during this period in nearby areas but none were able to compete with the culinary diversity of this shop.
Sadanandan owes the success of this shop to the culinary secrets given by his father to him. The youngsters who are still enthralled by Pizza and Burger are also fans of Sadanandan's dishes. According to their terminology, Sadanandan's dishes are 'nostalgic food.' Even though Sadanandan's shop has a cosmopolitan character, it is mainly a meeting place for politicians. In 1989, former minister T H Mustafa had to go to Apollo hospital in Chennai and he went to Aluva to board the train with his relatives. At that time, he said something in secret to Kunjahammed, the then Mandalam president of Youth Congress. Kunjahammed who fled the scene, came back after an hour with the mouth watering dishes from Sadanandan's shop. Mustafa boarded the train to Chennai only after having them.
Former minister Geroge Fernandes, former president of India Shankar Dayal Sharma thus the list of VIPs who tasted the culinary skills of Sadanandan are endless. Former MLAs, P P Esthose, P R Shivan, A P Varkey, Gopi Kottamurikal and C N Mohanan were regular customers in this shop. Certain former MLAs who pass through Pattimattom will surely won't go without visiting Sadanandan.

The shop which opens everyday early morning will only function till evening. The dishes are made and sold by the shop owner itself. The dishes are made in a traditional wood stove with Chinese pan. Now he is also being helped by his wife. This shop has made its place even in the modern day where cuisines are being ruled by Arabaian, Chinese, Italian, and by other northern and southern dishes. In these covid times, even though there is no provision to dine inside the shop, heavy demand is still there for its food parcels.