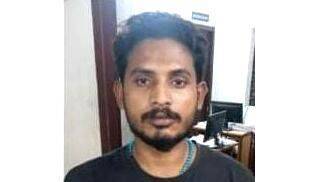 THIRUVANANTHAPURAM: In a shocking incident, a BJP activist was dragged out of his car by a gang and stabbed to death at Anthikad on Saturday. The deceased has been identified as Muttichur native Nithin (28). He was the 8th accused in the murder of CPM worker Adarsh.
The BJP has called for a hartal in Anthikad panchayat from 6 am to 6 pm on Sunday in protest of the incident.
The incident occurred by around 11 am in front of the Vattukulam temple. Nithin's car was coming from Muttichur area when the attackers blocked the car and dragged him out. The police rushed the youth to the hospital after he was found lying on the road for more than 15 minutes with more than 10 cuts. However, he died before reaching Thrissur Medical College.
Nithin and three others were recently granted bail in the Adarsh ​​murder case. The attack took place on the way back from the police station. Upon committing the crime, the assailants tried to escape in their car but failed. Following this, they managed to escape using the vehicle of a catering establishment after threatening the vehicle owner with a sword.
Nithin is survived by mother Vijaya, wife Prabitha, siblings Nitheesh, Nijil, Nimesh and Nirmal.
According to the police, Nithin is an accused in various cases at the Anthikad police station.
Adarsh ​​was hacked to death on July 2, 2020 near his home in Peringottukara. Police had arrested nine people in connection with the incident.