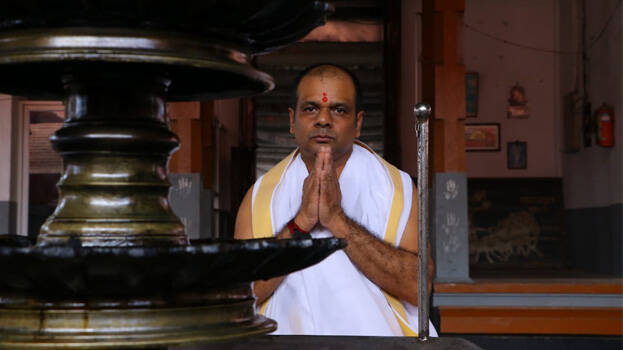 KOCHI: Gana Shravan, a Bangalore-based businessman reached Kerala again to offer prayers at the Chottanikara Bhagavathy Temple. Shravan, who was on the brink of suicide with a broken life was brought back to a dream like life by Chottanikkara Amma. He offered Rs 500 crore to Chottanikkara Bhagavathi for the development of facilities in the temple and in the temple town. He reached Chottanikkara yesterday along with his family for the official announcement of the projects.
Shravan sought refuge on Chottanikkara Amma when he had some financial difficulties and crisis in his life. His business flourished in a few years. He was born to a poor pujari family. He could not complete diploma in mechanical engineering due to his love for music. From 1995 to 2016 his life was music. After that he entered into gold and diamond business. When his business was in deep crisis, his guru advised him to visit the Chottanikkara Temple. Since then, the 46-year-old visits the temple on all Pournami and Amawasi days and started getting good fortunes in business.
Shravan is the managing director of Swamiji Group of Companies in Bengaluru. It is India's leading gold and diamond exporter. He wants the work to begin at the earliest.
'Chottanikkara Amma is the reason for all my prosperity. Devotees from all around the world reach here and my aim is to make arrangements for them. Have been in talks with the authorities of the devaswom board for the construction work for nearly a year. Some selfish people created obstacles.'
He had earlier asserted that work will begin as soon as the high court gives approval. The work is expected to be completed in five years. An amount of Rs 200 crore will be deposited in the special account once approval is obtained from the high court. The account will be subject to the approval of the devaswom board for withdrawal. Architect B R Ajith said the company will carry out the construction work directly.