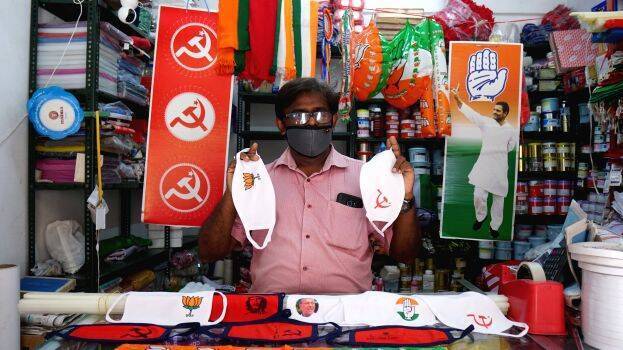 THIRUVANANTHAPURAM: Masks with symbols of various political parties turn out to be the stand out feature in the local body election campaign. Not only symbols but also masks with pictures of political leaders including Che Guevara, Modi and Pinarayi are also being prepared.
Masks are ready within two days of giving the order to Sulaiman's Screen Point, a screen printing company located in SS Kovil Road, Thampanoor. Sulaiman used to sell flags for political parties and ranks, conference hats, badges, garlands, raw materials for screen printing, and spare parts. However, following Covid, his business was in lockdown. There were no sales even after opening the shop and Suliman decided to change the business track. This thought brought him to masks, the new normal. Sulaiman, a native of Manacaud, makes beautiful masks with the election symbols printed in the color scheme of the respective parties. He has no special affiliation with any political party. Sulaiman sells masks with the party logo for between Rs 15 and Rs 30.

The candidate's name and picture can be printed on one side of the mask. The symbol on the masks will not fade even after washing as heat is used for printing.