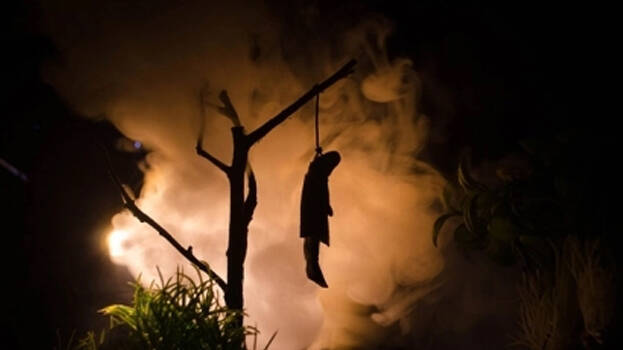 MUMBAI: Khardi police of Bhiwandi, Maharashtra, have recovered the bodies of three youths hanging from a tree six days after they went missing. At first sight, the police have sent the dead bodies for postmortem expressing suspicion of suicide. Apprehension is being expressed that these three youths, who get daily, commit suicide to get salvation or money.
Among these three, a young man was doing Babagiri for the last six years. Sources reveal that the police recovered four traps from that forest tree. The fourth loop was of a pink colored sari. According to the police, Nitin Bhere (30) of Shahpur, Mahendra Dubhele (30) and Mukesh Gayaghat (22) of Chanda village in Khardi suddenly disappeared from the house on 14 November.
Even after much searching, when he was not found, his family had lodged a complaint of his disappearance at Shahpur and Khardi police stations on 17 November. Six days after his disappearance, Rupesh Saple of Chanda village saw three dead bodies hanging from a tree while grazing animals in the forest. He immediately reported this to the Khardi police. Khardi police reached the spot and took down the dead bodies and performed a panchnama.
The deceased were Mahendra Dubhale and Mukesh Gaighat's maternal uncle. Nitin Bhere was also his relative. It is said that Nitin also built a temple for Babagiri in his house. There were also items like tantra-mantra and miracle books, knife, trident, whip and turmeric-kumkum. There were crowds of devotees. His relatives Mahendra and Mukesh also used to visit him daily.
Suddenly disappeared
On the day of Lakshmipujan, Nitin told his wife Maya that he would come in a while, but he did not come home. Mahendra and Mukesh also disappeared with that.
In a custody
The police is investigating from all points of view. Police are investigating a young man in custody for the fourth trap found from the tree. Shahpur subdivision police officer Navnath Dhawale said that at first glance it seems to be a case of suicide. It will be clear only when the postmortem report arrives.