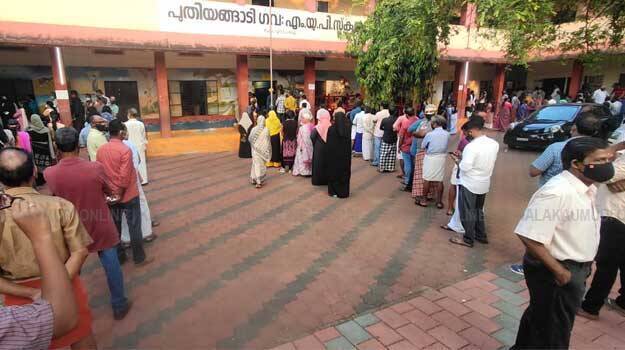 KANNUR: The last phase of voting for local body polls began. 6,867 wards from four districts, namely Kannur, Kasargod, Kozhikode and Malappuram which includes two corporations and 31 municipalities are going for polls on Monday. Long queues of voters are seen in front of polling polls since the wee hours on Monday. Minister E P Jayarajan, State president of Muslim League Panakkad Hyderali Shihab Thangal, Kunjalikutty MP cast their votes when the polling began at 7 am in the morning.
E P Jayarajan responded that LDF will secure a historic win in this election. Hyderali Shihab Thangal said UDF will have a sweeping victory in the polls. Kunjalikutty said there exist strong anti-incumbency feeling among the people.
The counting of votes will be held on 16th from 8 am onwards. The postal votes, which was widely used by covid 19 patients and those under quarantine to vote, will be counted initially. State election commissioner V Bhaskaran has said that all arrangements have been put in place for counting.
The vote counting for the three-tier panchayats will be held at block levels. The voting for municipalities and corporations will be held at the distribution and hospitality centres of respective institutions.
There are 244 centres for vote counting. The returning officer of block panchayats will be given a hall and those village panchayats which comes under block panchayats will be provided with special counting halls. Special counting halls will be arranged for each returning officer in municipalities and corporations. One table will be allowed for each polling station. The updates on vote counting will be available in poll panel's website real-time.