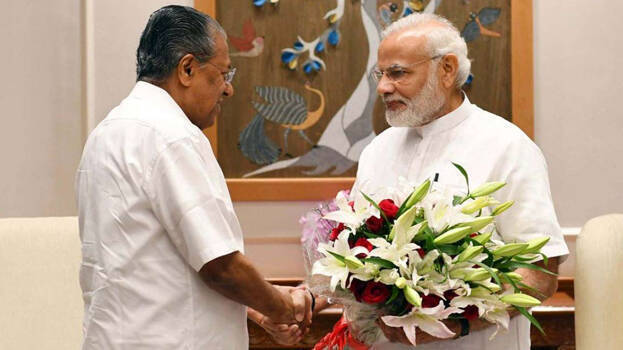 KOCHI: It was the beginning of 2015. A team from Kerala approached Prime Minister Narendra Modi seeking a special package for FACT, the fertilizer manufacturing company in Kerala, which was reeling under financial problems.
The Prime Minister said that the demands will be considered but only on one condition. The LNG terminal in Kochi is lying idle with utilizing only just six per cent of capacity. If the Kochi-Manglore pipeline project is not completed, the Rs 3,000 crore worth project will be stalled. Therfore, immediate measures should be taken to complete the project on time.
The high officials in the team tried to prove that the measures for installing the pipelines have been going on. But when the Prime Minister told them the current condition of the project they had nothing to reply. Even the people's representatives in the team said that they didn't know the micro details of the projects like the Prime Minister.
Prime minister's office has even recorded and complied the day to day data on the construction of LNG terminal. The prime minister's words were a wake-up call to the state government. Then chief secretary Jiji Thompson was appointed to supervise the project. A high level meet for the project was held on 2015 April 20. CEO and MD of Petronet LNG, Dr Ballyan has also participated in the high-level meet. It was decided to fast track the land acquisition for the project and to appoint nodal officers in all the districts concerned. Even though the pipe installation was resumed in June, it didn't continue for long.
The LDF government with Pinarayi Vijayan as Chief minister took the reigns of administration on 2016 May. Officers from GAIL visited Pinarayi Vijayan in July. He gave all support to the pipe laying procedure. The strict stand of the chief minister finally facilitated to fulfil the project on a war-footing mode. The works on pipe installation were put on a fast track manner and protest programmes against the project also ended by 2018.
The Kochi-Mangalapuram project was undertaken in the direct watch Prime Minister's and Chief Minister's offices. The project was fulfilled on time with Chief Minister's determination and Prime Minister's support.