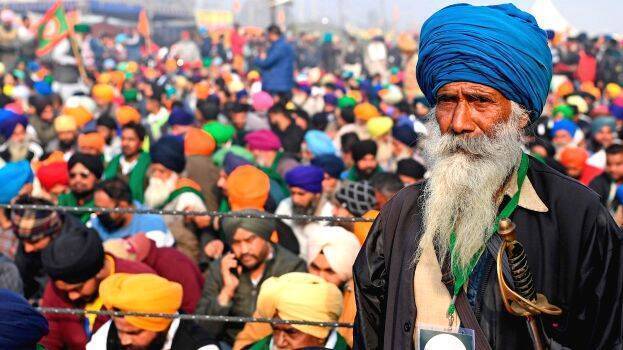 NEW DELHI: The Supreme Court ordered an indefinite stay on Tuesday over the implementation of new agricultural laws that have triggered widespread protest from farmers, saying it would set up a panel to hear their objections. For more than a month, tens of thousands of farmers have camped on the outskirts of New Delhi, the capital, to protest against reform measures that they say benefit large private buyers and harm growers.
Chief Justice Sharad Bobde told a hearing the Supreme Court would establish a panel to hear the farmers' grievances. "We have the power to make a committee and the committee can give us the report," he said, ordering the stay for an undisclosed period on the laws passed in September.
"We will protect farmers." There were no immediate further details.
India says the laws aim to modernise an antiquated farming system, bedevilled by wastage and bottlenecks in the supply chain. But farm leaders demand repeal of the laws, which they say are an attempt to erode a longstanding mechanism that ensures farmers a minimum support price for their crops.
The government has said there was no question of such a rollback, and eight rounds of talks have failed to find common ground. The two sides are set to meet next on Friday.
Farmers reject Supreme Court committee, to go ahead with protest
Protesting farmer unions Tuesday made it clear that they will not call off their agitation until the three farm laws are repealed, while raising doubts over the neutrality of the four-member panel set up by the Supreme Court to resolve the deadlock over the contentious legislations.
While the farm unions welcomed the top court's order to stay the implementation of agri laws, they asserted they will not appear before the committee as, according to them, its members were "pro-government".
Addressing a press conference at Singhu Border here, farmer leader Balbeer Singh Rajewal said that farmers never demanded the Supreme Court form a committee to resolve the impasse, alleging the Central government is behind this development.
"The members of the SC-appointed committee are not dependable as they have been writing on how agri laws are pro-farmer. We will continue our agitation," Rajewal told the presser after a meeting of 32 farmer unions from Punjab.
"We are against any committee on principle. It is the government's way to distract attention from the protest," he said, adding that farmers will go ahead with their proposed January 26 'Kisan Parade' that will be moved into the national capital.