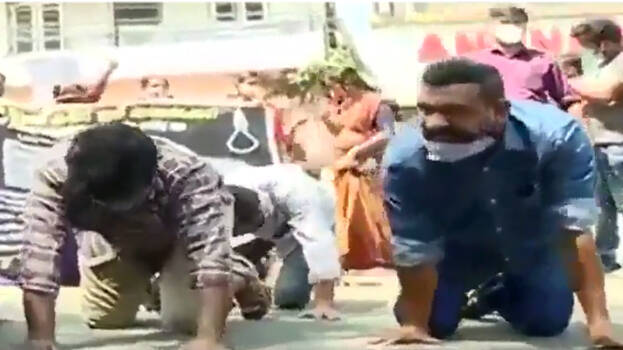 THIRUVANANTHAPURAM: The protest conducted by LGS rank holders in front of the secretariat demanding appointment was in full spirit on Monday. Today, they have crawled in front of the secretariat appealing the government to appoint them. Many of the job seekers who were protesting in the scorching heat fell unconscious after some time, but those who stood firm said that they will continue their protests. Those who fell unconscious were later shifted to the hospital.
Last week, certain job seekers tried to commit suicide and spilt kerosene on themselves which had set off a controversy. Following this, the protestors resorted to non-violent ways of struggle and as part of this, some job aspirants even took their family members to the protest site.
Even though the job seekers expected a conducive decision in the cabinet meeting held on Monday, nothing of that sort happened. The cabinet also denied the plea to extend the CPO rank list. The demand of last grade job seekers for extension of the rank list was also denied by the government. The government has also decided to regularise temporary staff in the tourism department who have been working there for the last 10 years. The cabinet has also decided to ensure that those posts were not left to PSC.