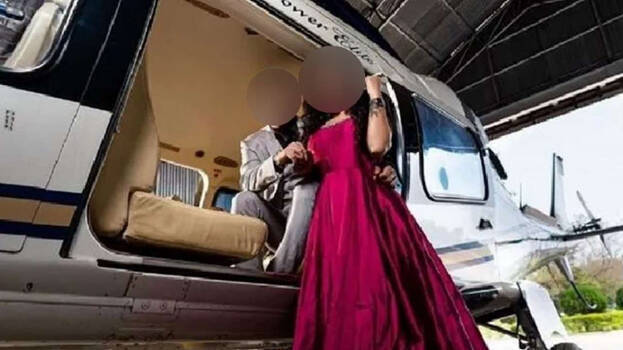 RAIPUR: Helping a friend turned out to be a costly affair for a driver in Chhattisgarh civil aviation department. Driver Yogeshwar Sai was suspended after pictures of a pre-wedding photo shoot featuring a couple posing with a state helicopter went viral on social media.
Sai was a friend of the groom and arranged a photo shoot for the couple in the state hangar. However, action was initiated against him for violating the safety norms of the hangar. He was shunted to the directorate of aviation Nava Raipur.
As per information from the police, the couple belonged to Jashpur district and got clicked with the state helicopter "AW 109 Power Elite" at Police lines, Raipur, last month. The photos later surfaced on social media.
"Driver Yogeshwar Sai allegedly violated security norms and arbitrarily facilitated the entry of unauthorized people into the hangar on January 21," Neelam Namdeo Ekka, Director of the state civil aviation department, was quoted by news agency PTI as saying.
A Hindustan Times report quoted Raipur Superintendent of Police (SP) Ajay Yadav saying that the pre-wedding shoot of the couple took place on January 20. A driver of the aviation department took the couple inside after he told the guard that they had permission. The guard knew the driver and didn't object. A probe has been launched in the matter, the SP said.
It has been reported that the chopper is used by Chhattisgarh chief minister Bhupesh Baghel. After the matter came to light, the CM himself took to the microblogging website Twitter saying that the concerned officials should investigate the matter.
"An incident of a pre-wedding shoot in a state government helicopter has come to notice. I want the concerned officials to investigate this and ensure that such lapses do not happen in future. Also, do not give too much attention to the matter. I wish the couple a happy married life. Be happy," he tweeted in Hindi.