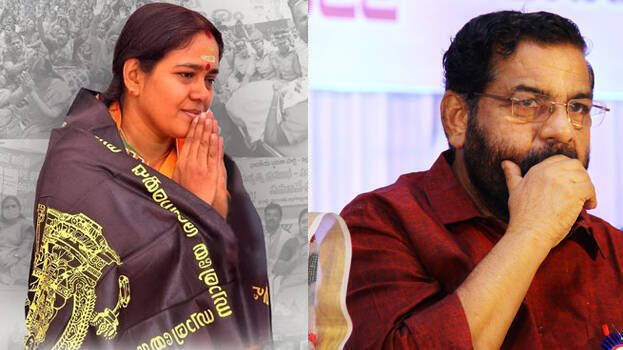 THIRUVANANTHAPURAM: BJP's candidate in Kazhakootam, Shobha Surendran has said that believers would stand with NDA. "Victory of the believers is necessary. I expect nothing less than victory in Kazhakootam. Kadakampally has to finally fail before the determination of lakhs of mothers who protested for their right to worship God," Shobha Surendran said after the central leadership has confirmed her candidature in Kazhakootam.
Shobha Surendran wrote on Facebook that finally, she has got the responsibility to defeat the minister who gave leadership to destroy the customs of Sabarimala Ayyappan. She also said that she is contesting in Kazhakootam respecting the demands of believers society in Kerala. "I am asking the people to vote for the total development, graft-free social welfare measures, murder-free politics, and for the protection of faith," she wrote on Facebook.
സ്നേഹിതരെ,
വരുന്ന നിയമസഭാ തെരഞ്ഞെടുപ്പിൽ ദേശീയ ജനാധിപത്യ സഖ്യത്തിന്റെ സ്ഥാനാർത്ഥിയായി കഴക്കൂട്ടം നിയോജക മണ്ഡലത്തിൽ...

Posted by Sobha Surendran on Tuesday, 16 March 2021
.