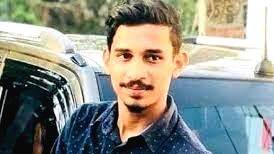 KANNUR: Two more persons, including the main accused in the murder case of Youth League activist Mansoor, have been arrested. Vipin, a native of Pullukara and the one who hurled bomb at Mansoor, and Sangeeth, the third accused in the case, were nabbed by the crime branch. They were hiding near the Monthal Bridge. With this, the number of those arrested in the case has now become seven.
Meanwhile, the police decided to conduct DNA tests on samples collected from the body of Ratheesh, who was found dead. The test is to see if someone had beaten him before he died, or if there is any blood stain between the nails during a fight. Police had received information that Sreerag, Sangeeth and Suhail were with Ratheesh before he died. This became clear when local CPM activists were questioned. Police are hoping to get more information after Sangeeth's arrest today.
Police are investigating whether Ratheesh was murdered. A detailed examination revealed that Ratheesh had sustained internal injuries shortly before his death. There were cuts on his face as well. Police suspect it was caused by an attempt to suffocate. Yesterday, a forensic surgeon arrived at the spot and conducted an examination.