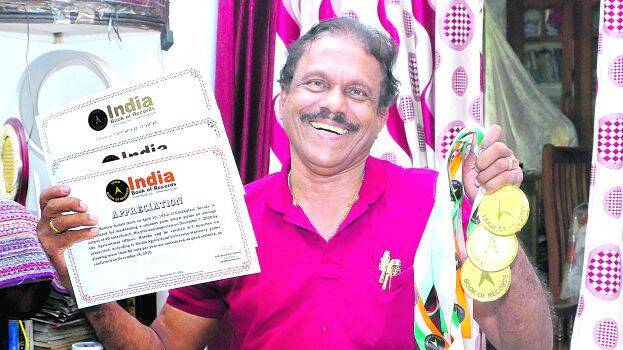 KOCHI: The collection of letters that belongs to Retd. Superintendent of Customs George Pullat includes 344 love letters and replies. Those love letters conveyed his love and affection for his neighbour who later became his wife. There are a total of 1777 letters in his collection- handwritten letters received from loved ones from 1971-2005.
While technology is swallowing handwritten letters, the third Limca record came in search of George, who has been treasuring the letters he received from a young age.
George's neighbour Lali had been his classmate since third grade. He sent his first love letter to her during their college days. The reply was a 'warning'. Later, they became close and started exchanging love letters. Lali wrote him 182 love letters while George's 162 replies to those letters mounted up to 460 pages. Their 'letter writing contest' lasted until their wedding. George's letters were treasured by Lali as well.
The collection also includes a 12-foot-long giant letter written on a teleprinter paper roll which was sent to parents when they went on their honeymoon. Those letters consisted of words from the heart of parents, siblings and friends. There is also a letter from social worker Dayabai. Letters of lost human relationships can be read in these letters. Officials at the Limca Book of Records, which summoned George to New Delhi the previous day, checked each letter to make sure it was accurate.
George began his career by joining the Air Force. He has also worked as a school teacher, Reserve Bank officer, Customs superintendent, author, magician, mathematician, painter and sports commentator.
Letters
Friends - 565
Relatives - 960
Students- 220
Others- 32