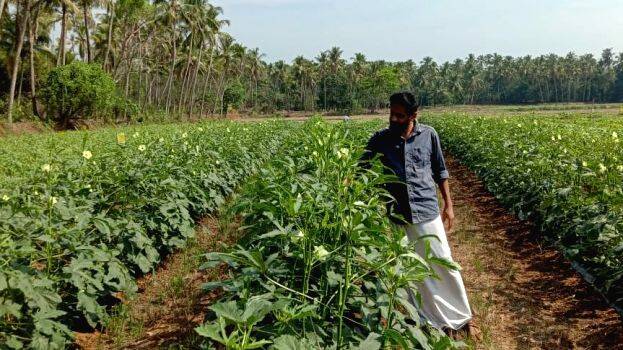 THRISSUR: 'We need to look after the plants as well as our health. The yield will be more than expected'- words of Unnikrishnan, who produces 40 tonnes of organic vegetables a year from one and a half acres and earns well. Indian Institute of Agricultural Research's Innovative Farmer Award went to this farmer from Puthoor in Kaiparambu last year by being frugal after understanding the soil.

Unnikrishnan's farm is harvesting almost every day. The farm is divided into three and a half acres. By the time the plants in 50 cents flowering, the next field will have crossed the first stage of growth. When the harvest starts in the first field, the buds will sprout in the third field.
Unnikrishnan, 54, was a computer technician and started farming 10 years ago. At first it was paddy cultivation. After a visit to the Open Precision Farming in Perumatti, he came to know the benefits of modern farming. Agriculture Officers TP Baiju and Raphael and scientists from the University of Agriculture Dr. Narayanankutty, Dr. Beryl and Dr. Jayaraj taught him the new methods.
Soil tests were done and fertilizers and secondary and micronutrients were applied. He also combined the agricultural lessons given by his father Vadakkuncherry Prabhakaran Nair, who lived as a farmer for 83 years and is famous for it. Beans, watermelons, ladies' fingers, cucumbers, pumpkin, brinjal, white gourd and even sweet melon were grown.
Today, non-toxic vegetables are delivered to malls even in the adjoining districts of Thrissur. During lockdown, veggies were sold on social media. Mother: Sumathi Amma, Wife: Latha, son: Adithya Krishna.
Soil preparation and planting
The soil is prepared by adding organic manure and vermicompost such as sheep dung, chicken manure and neem cake. Polythene sheet with perforations at regular intervals is used and seeds are sown in each hole. Water only as per need.
.
Unnikrishnan's Tips
1. Fertilize the soil. Diseases are caused by a lack of elements
2. Resistance and yield should be ensured while selecting planting material
3. Innovative methods can be understood by approaching a local agriculture officer.
4. Many crops should be tried on vegetables