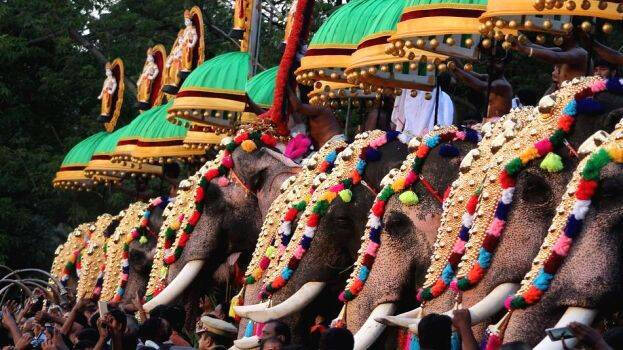 THRISSUR: The Paramekkavu Devaswom harshly criticized the authorities for tightening the conditions for Thrissur Pooram. It is an attempt to destroy the Pooram. Paramekavu Devaswom secretary G Rajesh alleged that the government was setting conditions that were not in line with any of the festivals and that things were going according to a script prepared by some. The DMO is scaring the people. He also demanded that new Covid regulations should not be brought in every day. The government yesterday issued an order making mandatory that those coming to watch Pooram should have taken two doses of the vaccine. A special order was issued withdrawing the direction that a single dose of the vaccine be sufficient. The special order issued by the principal secretary had made it clear that those who haven't taken the two doses of the vaccine should take a RTPCR test.
The devaswoms are opposing forest department's proposal that elephants be allowed to take part in Pooram only if the mahouts have a Covid negative certificate. An elephant will have at least three mahouts. They all should be Covid negative. If anyone becomes positive, the elephants will not be permitted to participate in the event. If one becomes positive, the other mahouts should be in quarantine. Nearly 90 elephants are taking part in the event. The devaswoms are of the opinion that the directive of the forest department is not practical. So, they demanded the proposal be relaxed. If conditions are strict, the conduct of the Pooram will be in trouble. The devaswom representatives will convene a meet today to take further action in this regard. Meantime, an official decision on Pooram regulations will be taken tomorrow. A decision will be taken in the meet attended by devaswom representatives and the chief secretary.
The entry pass will be available for download from the Covid Jagratha Portal from 10 am tomorrow. Details of your name and mobile number should be given in Thrissur districts' festival entry registration link. Soon OTP will be obtained in the phone number registered. To get the pass, either a negative certificate after RTPCR testing or the certificate of having taken the two doses of vaccine, should be uploaded. Following that, the entry pass can be downloaded from the link received in your mobile.