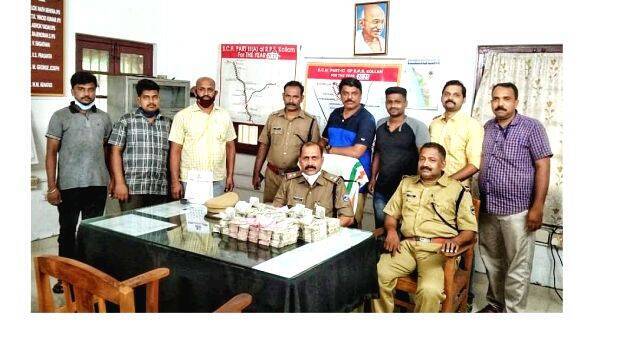 KOLLAM: An unaccounted amount of Rs 90.40 lakh was seized from train passengers. The railway police seized money from three foreigners during a check at the Kollam railway station at 4.30 am yesterday. The arrested are Ranjith Kumbar, 27, of Kanpur Gotti in Maharashtra, Prashant Kanaji, 27, from Sangili and Hanumanth, 40, hailing from SS Kovil Street, Tiruchendur.
In the aftermath of the election, the police had intensified inspections focusing on railway stations. Special teams were formed to find out whether money and intoxicants were being smuggled in from other states. When the Palaruvi Express reached the Kollam railway station yesterday morning, the police team conducted an inspection. The money was found when the police checked Ranjith Kumar's shoulder bag. There were two other people when the ticket was checked. There was also money in their shoulder bags which were in other coaches. Notes of two thousand and five hundred were found.
According to the revelation of the three, a person from Tiruchendur handed over the money to take it to the Karunagapally railway station. All three did not answer questions about the person who handed over the money and the person to whom it should be handed over. They boarded the train from Tiruchendur. They had tickets to Karunagapally. Under the supervision of Ernakulam Railway DySP Prashanth and DCRB DySP George Joseph, the inspection was led by Punalur ft. SI Shahjahan, Kollam Railway SI Manoj Kumar and Railway Intelligence Duty-Dansaf team members Ravichandran, Raju, Aditya and Akhilesh.