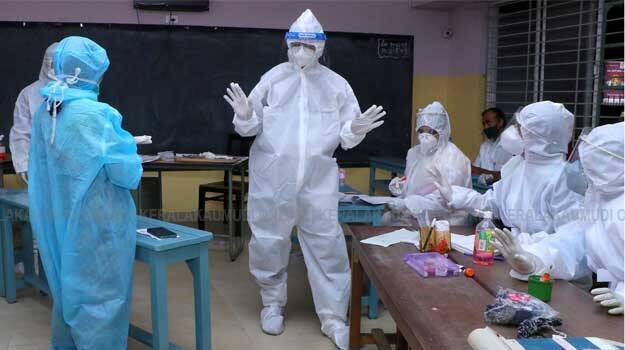 NEW YORK: The number of confirmed cases of the coronavirus-borne illness COVID-19 climbed above 142 million on Tuesday, and India remained a hot spot, recording more than 250,000 new infections and over 1,700 deaths in the past 24 hours alone.
India has the second-highest case tally in the world after the U.S. with more than 15 million cases, according to data aggregated by Johns Hopkins University. The country of more than 1.3 billion has suffered more than 180,000 deaths — and experts say these numbers are likely an undercount, the Associated Press reported.
The capital New Delhi entered lockdown again on Monday in an effort to curb a surge in cases that has hospitals overflowing, intensive-care units full and oxygen in short supply.
India is part of a wave of new cases that is pushing the global tally higher, even as some countries, including the U.S., are making good progress with vaccination, overshadowing the extent of the crisis in other places, including Brazil and France. The wave is partly due to new variants that are more infectious than the original virus.
But India's high infection rate is also due to some recent superspreader events, including a Hindu festival that saw many gather to bathe in the river Ganges while failing to wear face masks, as well as some busy state election rallies.
The U.S. State Department is warning against travel to India and the U.K. added the country to its travel "red list." Hong Kong has banned all flights from India and Singapore has added a week to the 14-day quarantine period it demands of travelers from there, according to the Straits Times.
India's case burden is also overwhelming its vaccination effort and that has implications for the world, as India is the biggest producer of vaccines. The country was forced to delay deliveries to other places to keep up with domestic demand. On Monday, the government said it would expand the vaccine program to every adult, but it's unclear how it will meet that supply, according to the AP.
The World Health Organization, meanwhile, again highlighted the issue of vaccine equity on Monday, urging richer countries not to hog vaccines and noting that failing to vaccinate poorer countries will simply allow more variants to emerge and potentially produce one that will not respond to current vaccines.
Environmentalist Greta Thunberg joined a WHO news briefing with the news that she will donate 100,000 euros ($120,000) via her foundation to the WHO Foundation to support its Covax program, which aims to distribute vaccines to the most at-risk in the poorer countries of the world.
"The international community must do more to address the tragedy that is vaccine inequity," the Swedish Thunberg told reporters. "We have the means at our disposal to correct the great imbalance that exists around the world today in the fight against COVID-19. Just as with the climate crisis, we must help those who are the most vulnerable first."
On average, 1 in 4 people in high-income countries have received a coronavirus vaccine, compared with just one in more than 500 in low-income countries.
In the U.S., the Centers for Disease Control and Prevention's vaccine tracker is showing that as of 6 a.m. ET Monday, 264.5 million doses had been delivered to states, 211.6 million doses had been administered, and 132.3 million people had received at least one shot, equal to 39.9% of the population.
A full 85.4 million people are fully vaccinated, equal to 25.7% of the population, meaning they have received two shots of the two-dose vaccines developed by Pfizer Inc. PFE, +0.26% and German partner BioNTech SE BNTX, +4.48% and Moderna Inc. MRNA, -3.17%, or one shot of the Johnson & Johnson JNJ, +2.33% one-shot vaccine. The AstraZeneca vaccine has not been authorized for use in the U.S.
Among Americans 65-years old and older, 35.5 million people are fully vaccinated, equal to 64.9% of that group. Almost 44 million people in that age bracket have received a first jab, covering 80.1% of that population.