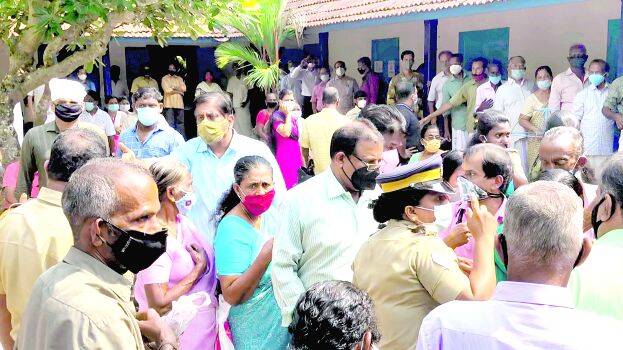 THIRUVANANTHAPURAM: Chief Minister Pinarayi Vijayan has said that in the wake of the second wave of Covid transmission in the state, it has been decided to impose strict restrictions in the coming days and to grant public holidays on Saturdays and Sundays. However, there is no change for Saturday's Plus Two exam. He added that lockdown won't be imposed as of now. The CM was speaking at a press meet after assessing the Covid situation at a high-level meeting yesterday.
"The second wave is more intense than the first. The daily cases crossed 22,000 yesterday. It may be higher in the coming days. Police were instructed to tighten night restrictions. However, Ramadan fasting will be facilitated. A special committee will be formed to monitor oxygen availability. Immigrant workers will be vaccinated and provided with food if they need it. A meeting of private hospitals regarding Covid treatment will be called. Border reserves will be strengthened. Actor on war footing will be taken at places where is a transmission of over 35 percent", he added.
State-level task force
A state level task force headed by the Chief Secretary was formed. They will assess the situation every day and report back. Ward level committees will be formed under the leadership of the local bodies comprising of Revenue, Police and Asha workers. The chairman will be the ward representative. People will be informed on a daily basis about the Covid status and precautions to be followed.
Restrictions:
Only essential services allowed on the 24th and 25th
Restrictions not applicable for those on election and examination duty
Higher secondary examination will be held on the 24th
Only 50 percent of people in government offices have to report for work at office, with the rest working from home on a rotational basis
Public holiday for all government, public sector entities, banks and co-operatives
Covid duty for government employees who do not show up for work
Educational institutions should function online only
Tuition centers are not allowed
Strict restrictions at beaches, parks, railway stations and bus stations
Shops only until 7.30 pm
Work from home in private institutions
Online registration for vaccination will be mandatory
Marriages and housewarmings can be performed with the prior permission with of less than 75 people
Strict restrictions for hostels

Essentials that can operate on April 24
Vegetables, fish, groceries, milk
Only parcels allowed in restaurants
Those providing essential services such as internet and telecom
Those on Covid duty
Those involved in freight and public transport
Those who go out should carry an identity card.