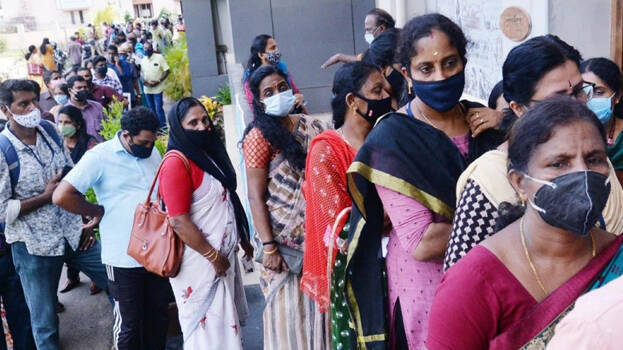 THIRUVANANTHAPURAM: Vaccination camps could lead to the spread of Covid-19, said Indian Medical Association (IMA). The reason for the transmission of the disease in Kerala is lack of care during electioneering. Curfew should be imposed on the day the votes are counted. The spread of the disease and the death rate is more in the second wave of the disease.
The IMA demanded that medical exams should not be postponed. The exams should be conducted adhering to Covid protocol. If the exams are postponed, there will be a shortage of junior doctors and this will create a crisis. Vaccination should reach as many people as possible. SSLC and Plus Two examinations should be conducted adhering to Covid protocol. The exams which started should not be stopped. It is a matter of students' future, opined the IMA.
Meantime, Kerala Govt Medical Officers Association (KGMOA) has come to the fore against mass testing. Mass testing is unscientific and the delay will lead to a crisis, criticised KGMOA. The delay in the result is to damage the purpose of mass testing. Testing should be shortened to those with symptoms and those coming in the contact list. Lab facilities should be increased. Human resources should be increased, said KGMOA. The organization demanded all these in the letter sent to the chief secretary.