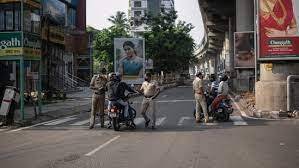 As the Covid is spreading like wildfire, more severe medication may be required. The country that is suffocating due to Covid epidemic is now experimenting with such drastic treatment. Kerala is also moving towards complete closure from April 8 till the 16th. The decision to impose a nine-day shutdown on all but essential services is based on the realization that restrictions similar to the lockdown, implemented last week, would not have a significant effect.
The effectiveness of the idea of keeping as many people at home as possible depends on the attitude of the people towards it. There is no doubt that people will be happy to face the hardships of being shut-ins in the current situation. There may be a small section of people who are reluctant to do so. Those who are about to cross the lakshmana rekha must remember that law enforcers across the country are ready to deal with such people.
A total of 42,464 people in the state were newly diagnosed with Covid on Thursday. On Wednesday it was 41953. The fact that Kerala ranks third in the country in terms of daily morbidity is enough to add to the anxiety and fear of all the people living here. Even more tragic is the fact that death is associated with an increase in disease.
The people must unite to co-operate wholeheartedly with the currently announced complete lock-down as it becomes an urgent need to control the epidemic by any means. One only has to look around to see the consequences of the Covid graph rising. The health system as a whole is under severe pressure. Hospitals are rapidly overflowing with Covid patients. At least now and then people are fated to wait in line even for a funeral. The situation can only get worse if people are not willing to obey guidelines. That is what is meant by lockdown. Lock-down rules are implemented to fully ensure the daily basic needs of the people are not hampered.
. Institutions selling essential items, including medicines, will remain open. Arrangements have also been made for assistance in case of emergencies.
However, no one expects the spread of the disease to be completely stopped with a few days of lockdown. It is already clear that it will take a long time. Awareness of the spread of the disease remains to be seen. The guidelines of the Department of Health regarding Covid should be followed accordingly. If one person in a household becomes infected, the spread of the disease can be prevented if other family members strictly adhere to the quarantine rules. The main reason for the spread of the disease now is that many people are bothered to do so and instead, step out without following Covid protocol.