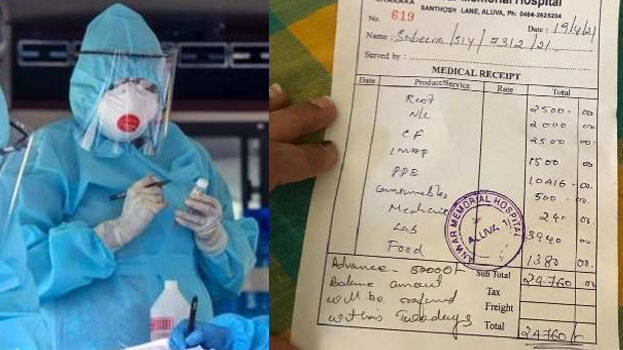 KOCHI: A homemaker who was admitted to a private hospital in Ernakulam had to pay Rs 24,760 for 23 hours long covid 19 treatment. The undue ordeal was faced by Vaduthala native Sabeena Saju, who got earlier admitted to Aluva Anwar Memorial Hospital.
Sabeena Saju was tested positive for Covid 19 on April 18th. Following this, she got admitted to Aluva Anwar Memorial hospital which featured in the list of govt recognised private hospitals for covid treatment. The hospital became willing even to accommodate the patient when Rs 50,000 was paid in advance. Sabeena said despite getting admitted to the hospital, nobody in the hospital noticed her for hours.
Only dolo tablets and rice soup were given to Sabeena. As no doctor visited her, she informed the issue to her relatives. With this, the relatives shifted Sabeena to another hospital. In between this, Sabeena was shell shocked to see the medical bill. For rendering so-called 'treatment,' the hospital authorities levied Rs 24,760 from her.
The hospital levied Rs 10,416 alone for the PPE kits. For the rice soup, they levied Rs 1,380 and charged Rs 24 for dolo tablet. The incident set off a controversy as the homemaker submitted a complaint before the police. Following this, the hospital authorities requested her to withdraw the complaint and refunded the entire amount of money levied from her by 10.30 pm yesterday.