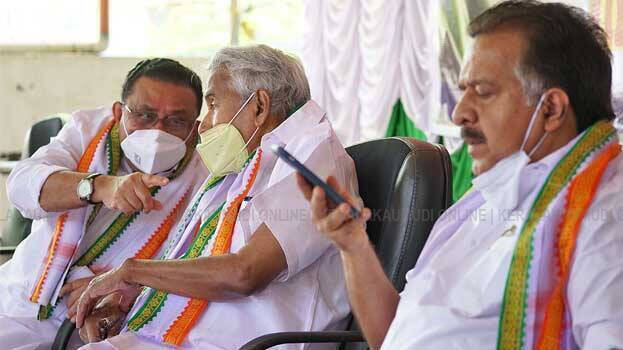 THIRUVANANTHAPURAM: Despite the humiliating defeat in the assembly polls, possibility for leadership change in the state Congress party is bleak. Whereas presidents of most of the district's Congress Committees will be changed. Even though there exists in reducing the size of the jumbo committees, there is still no clarity on how its reorganisation will be carried out. 'I' group has seconded the continuation of Ramesh Chennithala as opposition leader. The legislative party meeting to choose the opposition leader will be held on the coming 20th.
If there arises the demand to change the party president then, on similar lines demand to change opposition leader will also arise. That is why the 'I' group has not got into fierce criticism during the political affairs meet and it also tried to avert the issue of leadership change becoming a discussion point. 'I' group leaders resorted to such a strategy in their closed door meet held two days ago. A general consensus came up that if demand for Mullapally's resignation is made then it may hit back. High command also suspect that an organised move is being made against Mullapally.
Mallikarjun Kharge and V Vaithilingam will take part in the political affairs meeting to be held on 18th and 19th and also in the parliamentary party meeting to be held on 20th as high command's observers. They will be also accompanied by AICC general secretaries--Tariq Anwar and KC Venugopal. Among the 21 MLAs of Congress, 12 are from 'I' and only nine belong to 'A' group. This majority is the strength of Chennithala. Even though instead of Chennithala, V D Sateeshan's name is also being considered for the post but it doesn't have the support of all within the group. Those who are against this, says if Sateeshan's name is proposed then 'A' might come up with Thiruvanchoor's name.
Though a general impression exists in the party that Chennithala has functioned as an effective opposition leader. Therefore important leaders in the group also don't think that putting the burden of defeat on his shoulders is not the right thing. 'A' group is also looking forward to the parliamentary party meeting. K Sudhakaran is already hatching moves to become the party president if Mullapally resign from the post. If the conflict over KPCC president posts heightens further, then 'A' group might propose K Muraleedharan as a compromise candidate.