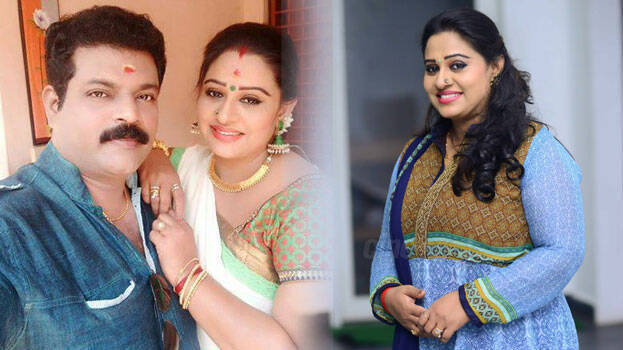 Manoj Kumar, actor and husband of actress Beena Antony, revealed that she was in a critical condition after diagnosed with Covid-19. He said that she returned to life only by the grace of god.
His words
'The condition of going through the hearth of life. For four days my life was like that. Beena had gone to attend a shoot before the lockdown started. One turned Covid positive there. She started showing symptoms after that. It started with throat pain and body aches. She had immediately gone room quarantine. She was tested and was found to be positive.
My sister and child were Covid positives a few days ago. They recovered by sitting room quarantine. Beena also sat in room quarantine and thought would recover like that. Oxygen started dropping when checked in the oximeter. She had cough and was tired also. She was afraid to go to the hospital. I knew she would be mentally broken if taken to the hospital. So called the doctors and continued the treatment. As days passed, her health was deteriorating. I told her can't wait anymore and if waited anymore your life would be in danger. As soon as she heard this, she started crying. What can be done, you need to go? She was admitted in Ernakulam Medical Centre.
The antigen test was negative, but before that, the treatment started. RTPCR test conducted turned positive the next day. Luckily we got a room there. Pneumonia was found on both sides of her chest. The doctor said there was nothing to fear. I did not tell anyone about this. She would call in between. Can I tell her this? She told me that they consider her as a serious patient. Still I did not tell her anything.


But I told the truth when she started getting angry with them in the hospital. I told her she has minor pneumonia. It needs good treatment. She asked me why I didn't tell her earlier. I was in a state of mind standing in between the devil and the sea. I told her everything later and made her understand.
I am crying before God. My parents used to call me every day enquiring about her health. I told them everything was ok. Frankly speaking, I am saying this with tears. She will return, we'll get her. The last few days I have been calming her without telling anyone anything. God gave me strength. Or else would have died of a heart attack.
The hospital authorities called and said, 'She is not recovering from pneumonia. The ICU here is full. Find out if there is an ICU in another hospital '... I started shivering after hearing this. I didn't know what to do. I called many hospitals but they didn't have one. I informed the doctor treating her. He asked me not to worry and said there will be no need of an ICU.
After a few days, the doctors told me that she is recuperating. She survived by the grace of God. God sent her to these doctors.
Mammootty and Lalettan knew this from Edavela Babu. Had called Edavela Babu to ask about AMMA's insurance. That's how they all came to know about it. Lalettan had sent a voice message. Mammookka also enquired about her. Beena is not an active actress, yet those actors remembered us. That gave us strength. Seema chechi had called her.
No one should take this lightly. I said all these as what I experienced should not happen to others. I could not even comfort her. Think about it. Be safe everyone.