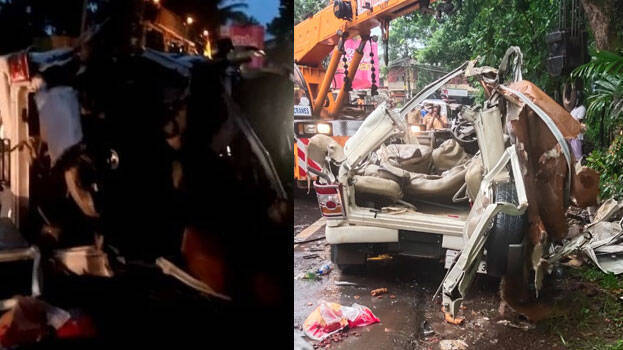 KOZHIKODE: There are indications that those killed in the car accident at Ramanattukara in Kozhikode belong to a gold smuggling gang. Police firmly believe that they were mediators of gold smuggling. Police obtained information that about 15 vehicles were in the area in connection with the gold smuggling.

The 15 vehicles were carrying many groups including those who reached Karipur Airport to get the gold from the passenger, those who tried to grab the gold from them and those who came to rescue them. Initial reports said there was a chasing in between this and that one vehicle lost control and overturned.
It is heard that the victims were part of a gang looting gold from smugglers. No gold or any other items were recovered from the vehicle involved in the accident. The police told media that everything is being investigated in detail.
Police also suspect that another group may have shifted the gold immediately from the vehicle after the accident. There are reports that these groups created a WhatsApp group to coordinate gold smuggling activities.
Some unconfirmed reports said that they were escorting one Charal Faisal. Six people are in police custody in connection with the crash and they claim to be friends of the five dead. They told police that they came to pick a friend from Karipur airport and in the meanwhile the occupants of the Bolero car which met with the accident had gone to Ramanattukara to buy water.
Five youths were killed after the car in which they were travelling collided head-on with a fully-loaded lorry on the Kozhikode-Palakkad highway this morning. The dead have been identified as Nazeer, Subair, Muhammed Zahir, Asainar and Thahir, all hailing from Palakkad.

The accident occurred at around 4- 45 am at Pulinjode in nearby Ramanattukara and all the five men died on the spot.