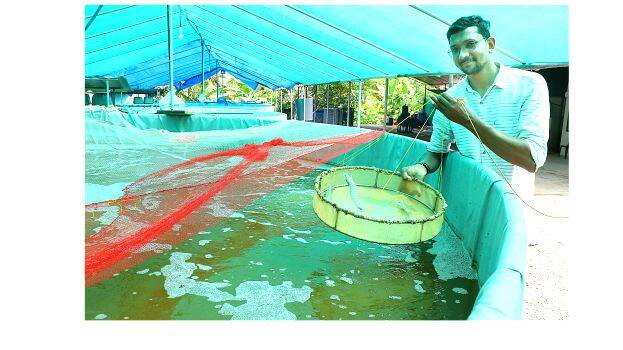 KOCHI: Hafiz Abubaker, a native of Aluva, has a success story to tell those who ask whether shrimp farming should be done in one yard. Hafiz's shrimp farming is done by artificially creating seawater along with modern bioflox fish farming methods.
Experiments by many, including Hafiz, to bring seawater into tankers have only failed. Thus, Hafiz came up with the idea of ​​artificially creating a body of seawater. The minerals required for this purpose were brought from Andhra Pradesh and Gujarat. If the ratio goes awry, agriculture will collapse.
Hafiz cultivates vannamei varieties that can be harvested within 60 days. In a five-square-meter tank with a capacity of 20,000 liters of water, one can make a profit of up to Rs. 25,000 through retail sales

Hafiz brings vannamei babies with high immunity to Kochi from a hatchery in Pondicherry. Farming is done in 10 tanks in a 15 cent backyard. Aquaculture of carp and other fishes are also done on an experimental basis.
People queue at Hafeez's house to learn backyard shrimp farming.
100 kg of vannamei shrimp can be produced from a five square meter tank
Government assistance
Central assistance: Up to 50 per cent for 7 tank project of Rs 7.5 lakh
State Assistance: Up to 50 per cent for a project of Rs 1.5 lakh.
For information -9809550550