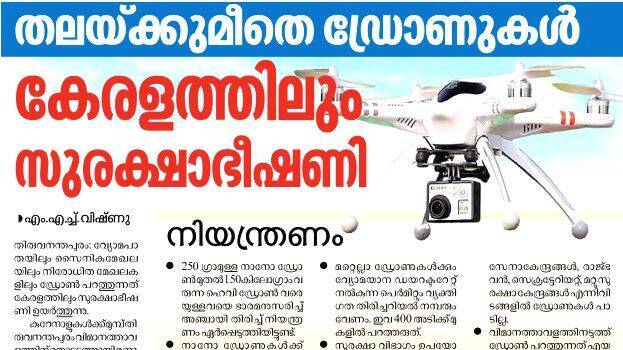 THIRUVANANTHAPURAM: With the advent of unmanned aerial vehicles (UAVs), the Kerala Police is preparing 'Drone Kavacham' (drone shield) to counter the security threat posed by drones flying in strategic areas.
Drones that avoid the radar by flowing low can also be detected using the drone shield. The drone shield, which captures radio waves from the drones, is capable of paralyzing them and bringing them to the ground. ADDGP Manoj Abraham is in charge of the drone shield. Kerala Kaumudi had reported on Friday that the drones are posing a security threat.
Though the forces have been using this technology for a while, this is the first time that a state police force in India is preparing the technology to combat drones. Drone shields will be deployed at VIP visitors' places, airports, Sree Padmanabhaswamy Temple, and police headquarters. It is being developed in collaboration with three private companies, including Tata Consultancy Services (TCS).
The main part is a powerful radar that can be attached to the ground or a moving vehicle
Radar can detect drones flying within a range of 5 km
The drone will crash when its operation is jammed using radiofrequency or laser
A drone forensic lab will be set up in Thiruvananthapuram to test this
Like the mobile's IMEI, the drone also has an identification number which helps to find its place of manufacture
Equipment will also be purchased to find out where the drones came from.
Useful drones
Drones assist police in night patrolling and detection of violators of Covid regulations
Drones also assist in life-saving efforts in tourism centers. They are also used for monitoring during natural disasters. Drones are also used to provide life jackets to those who fall into water bodies.