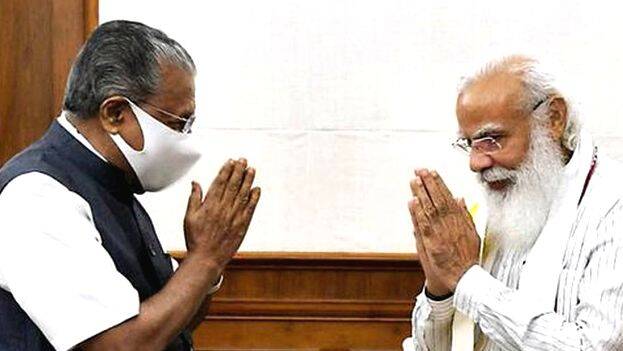 The meeting between Prime Minister Narendra Modi and Chief Minister Pinarayi Vijayan in Delhi on Tuesday was marked by the Prime Minister's cordial and constructive approach to the development needs of the states. Although the two leaders are politically polarized, their position that politics should never interfere in development matters is timely. The country aims for rapid development in all areas. At the same time, the benefits of development will be felt by the people as soon as the states progresses.
Kerala has long been neglected in this regard. The state is now working hard to bring about changes in policies and perspectives to meet the needs of the new age. The state has a number of infrastructure development projects that need generous central assistance. The Centre should take a proactive approach to bring them to fruition as soon as possible. The assurances given by the Prime Minister to the Chief Minister should be fulfilled in a timely manner.
Many of the development demands raised by Chief Minister Pinarayi Vijayan during his meeting with the Prime Minister are years old. Among them, the Chief Minister received indications during his discussions with the Prime Minister and other Union Ministers that the Light Metro project in Thiruvananthapuram would be approved soon. This is a long awaited dream project of the people of the capital. The delay was due to some adamance against the development of the light metro, which is a good solution to the severe traffic congestion in the capital. Preparations for follow-up should begin as soon as there are indications that the project will be approved soon. The Centre is of the view that the demand of the state to give permission for the Kozhikode Light Metro, which was also proposed, can be considered through. The Prime Minister has assured a sympathetic approach to the development of the state, including the Sabari Rail Line, Kasaragod-Thiruvananthapuram High Speed Rail Project, Sabarimala Airport, Kochi Petrochemical Complex and City Gas Expansion. The attention of the union minister concerned has been drawn to the need to increase facilities at Kannur and Kozhikode airports. The Prime Minister had laid the foundation stone for the petrochemical complex in Kochi two and a half years ago.
The demand for AIIMS to be allowed in the state is decades old and at one point it seemed to be a reality, but the dream of AIIMS did not come to fruition due to suicidal carelessness, mismanagement and lack of political will at the official level. It can still be achieved if approached with a strong determination.
The Prime Minister spoke to the Chief Minister on the need to develop inland water transport in Kerala. This is an area that can create unprecedented benefits for the state blessed with rivers, lagoons and canals.