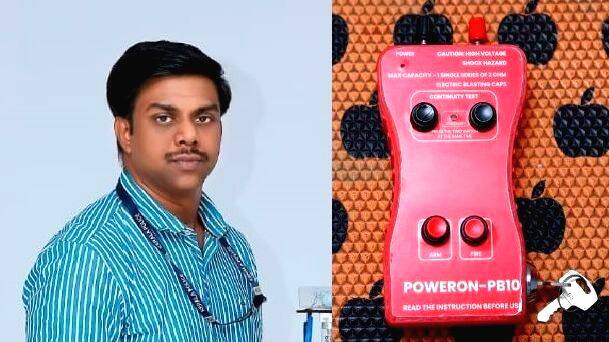 KOCHI: An invention from a bomb squad member could likely turn out to be a relief as it can replace heavy batteries used in vehicles now used by the squad to dispose of bombs.

A blasting machine developed by Ernakulam range state special bomb squad member AS Vivek can be carried in a pocket. This Alappuzha Thuravur native has made a blasting machine worth between Rs 50,000 and Rs 1 lakh at just Rs 3000.

After becoming a part of the bomb squad, he had received training in technology to deactivate bombs from Haryana. There were difficulties to carry the battery used to deactivate bombs. Vivek felt a solution had to be found for this. He made this equipment with electronics purchased from Ernakulam. The equipment has been named 'Power On' and is in wait for the final approval of the CDS. He also recently manufactured a machine an ultraviolet machine for Covid disinfection and handed it over to the bomb squad. Vivek joined the police 10 years ago. He says the support of his wife Reshmi and family gives him the energy for the experiments.
Blasting machine
Price: Rs. 45000- 100000
Equipment produced by Vivek: Rs. 3000
Deactivation
The explosives are disposed of by detonating them 100 meters away in an empty space. The wires are attached to the explosives and it is connected to the vehicle battery which is placed more than 100 meters away and then sparks are initiated.
Power on
You can charge from the phone and the power bank
Understand the battery charge level
Simply attach the wire and press the button