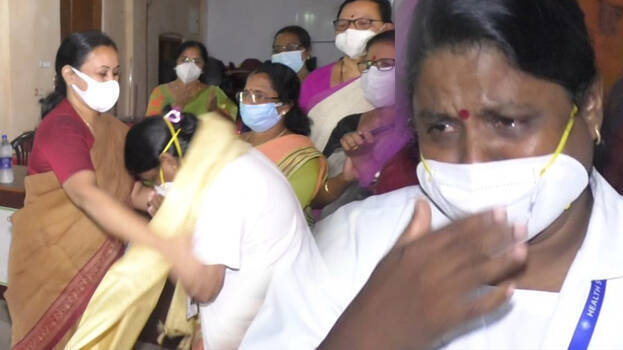 THIRUVANANTHAPURAM: Health Minister Veena George came to meet health activist K Pushpalatha who administered vaccine shots to 893 people in seven and a half hours. The minister visited Chenganur district hospital and honoured junior public health nurse Pushpalatha with a ponnada. The minister specially congratulated the activist. The minister said the health department has a lot of health workers whose names are not known, faces not known and also who are suffering a lot. They are the ones who drive our system forward. The minister said this is a tribute to all of them.
Pushpalatha told the minister that she got the job with great difficulty. A singer, she learned nursing with the support of her husband's family. Even after getting the job, that sincerity continued. Along with the work, ward level work is also carried out without interruption. Pushpalatha said that one should not only get a job but also should have the mind to work.
Pushpalatha said her support is teamwork. The team consists of JHIs Vineeth, Sreeraj, Sreedevi, staff nurses Remya and Animol. The minister also congratulated them. She also sang a song and was in tears after singing four lines.