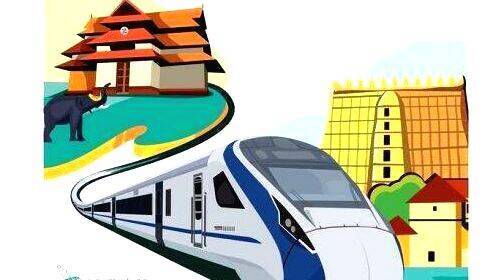 Thiruvananthapuram: The Kerala cabinet yesterday decided to declare the Kerala Rail Development Corporation as a special purpose vehicle for land acquisition for the semi-high speed rail project (K-Rail). This is to get a loan of Rs 2100 crore from KIIFB.
955.13 hectares of land will be acquired for the project from various taluks in Thiruvananthapuram, Kollam, Alappuzha, Pathanamthitta, Kottayam, Ernakulam, Thrissur, Kozhikode, Malappuram, Kannur, and Kasaragod districts.
The cabinet decision shows that the government has decided to go ahead with the project despite the opposition from the UDF and the Kerala Sasthra Sahithya Parishasth.

The UDF sub-committee report, which was released yesterday, stated that the K-Rail project was an unviable project and should not be allowed to go forward. The sub-committee of the United Democratic Front (UDF), led by former State PWD Minister M.K. Muneer in their report has pointed out that the project will cause a big loss to the state exchequer and a huge environmental damage. This will be discussed during today's UDF meeting.
Land acquisition will be subject to the provisions of the Land Acquisition Act, 2013. The acquisition process will proceed once the final approval of the Railway Board is received. A special Deputy Collector's office will be set up at all districts through which the rail passes. K-Rail has commissioned EQMS India Limited to conduct a comprehensive EIA study of the project. The report is expected to be submitted within 14 months.