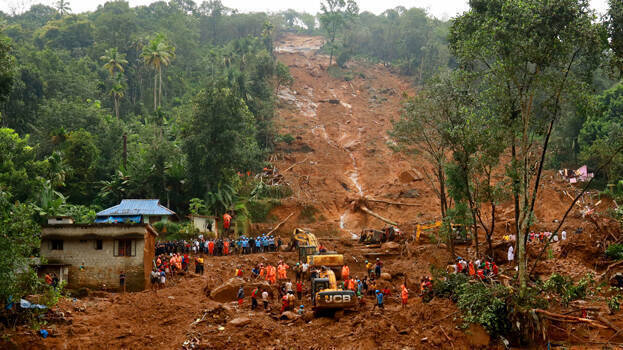 THIRUVANANTHAPURAM: Not torrential rains, unpredictable light cloudbursts are the new villain behind the disasters in the state, said climate experts. Cloudbursts are a rare weather phenomenon. Unlike the Himalayas, Kerala is not a region of rapid climate change. Still experts said similar small cloudbursts have been reported in the state recently.
Cloudbursts trigger 10 centimetres of rain per hour. A light cloudburst is when five centimetres of rain lash in two hours. This is what caused the tragedy at Kavalappara last year and in Kootikkal the other day. Usually monsoon rain clouds have a depth of five to seven kilometres. However, in the last few years, there has been a rare situation in the state where rain clouds of 10 to 14 km form and converge. This leads to the explosion. This is unpredictable. However, cloud accumulation can be detected by radar and satellite surveillance, and a system can be set up to warn at least four hours in advance.
Along with this, there are hurricanes, low pressures and increasing climate change in the Arabian Sea. Hurricanes are enough to cause heavy rain for days. Experts said the low pressure area in the Bay of Bengal and the rising sea level in the Arabian Sea are causing flooding in the state and it should be seen seriously.
'The state should change the traditional system of issuing daily rain alerts and provide at least three or four hours' early warning of disasters.'
Dr S Abhilash
Director
CUSAT Advanced Centre for Atmospheric Radar Research