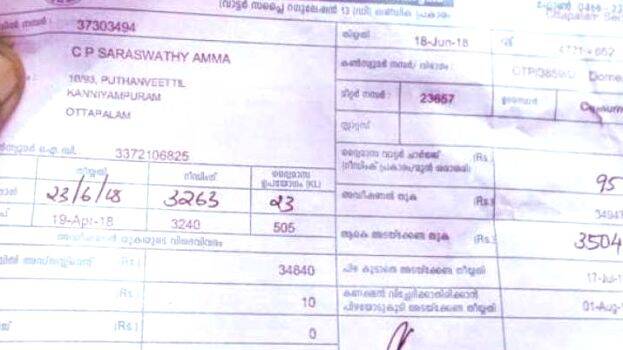 It is pure injustice for a consumer to pay for unused service. The billing reform recently implemented by the Water Authority continues to loot consumers. There are widespread complaints against this. Instead of taking the reading of the water used and charging the exact bills, it seems like many people are getting the bill for water they have. For those who usually pay the bill at nominal charge, the bill received over the phone is in the thousands of rupees. It is true that many of them are corrected when it is complained. But that is not the end of the story. Those who do not go to complain must pay the higher bill.
It is not the consumer's fault that there are no enough staff to take the reading.
The Water Authority says that more than half of the meters installed in the state are damaged and consumption cannot be accurately calculated. If the meter is found to be damaged during inspection, they may be asked to replace them. The tested meter can be re-installed. If the customer does not comply, the authority may proceed with the formalities, including disconnection. The Authority has a policy of punishing the consumer for its own misconduct.
We published a report in the last issue highlighting the flaws in the billing system. The report was based on complaints from consumers in the city of Thiruvananthapuram. The report also provided proof that a customer who was paying a bill of less than Rs 100 suddenly received a bill of Rs 6,632 last month. On an average, at least 25 complaints a day are received by the authority regarding excessive bills. Does this mean that a good portion of bills are based on incorrect readings? During the Covid period, reading was discontinued. The bill was based on consumption in previous months. When the reading resumed, it became customary to pay the bill directly to the customer. Instead, a message will be sent on the phone showing the amount. Consumers who are shocked by the high bill have to go to the Water Authority office to rectify the error in the bill. Instead of punishing consumers in this way, the authorities should consider whether a non-complaint mechanism is possible. It is not known why the old practice of taking readings in the presence of the customer and paying the bill on the spot was discontinued. The authority is in the works for a self-reading system.
It is estimated that there are 21 lakh consumers use water from the Water Authority. Electricity consumers are four times that. There is a system to take accurate readings and pay the bill. The Water Authority needs to find out why everything is messed up.