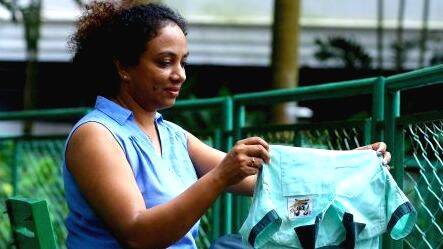 KOCHI: Vidya Mukundan, who designed gender-neutral uniforms for the first time in Kerala, is feeling proud as schools in the state are gearing up to introduce gender-neutral uniforms for students. Vidya, who is preparing to write and direct a film, is still passionate about fashion designing.

Vidya, who works as a costume designer in serials and advertisements, designed the first gender-neutral uniform in 2018 for the children of Govt LPS Valayanchirangara in Perumbavoor. It was PTA president Binoy Peter who approached her for this. She designed three-fourth trousers which were similar to the boys' shorts. The uniform was implemented in the school that year itself. Now, more than 700 children in the school wear uniforms designed by Vidya.
Shifted to Kochi due to passion for cinema
Vidya, who was a chartered accountant in Mumbai, gave up her job and returned to Kannur following the birth of her child. She then started a Facebook page for costume designs and later a boutique. Later, she shifted to Kochi due to her passion for cinema. She started a boutique in Kochi as well. Vidya has designed costumes for several films, serials and commercials. She lives with her husband Mukundan and children Suryanarayanan and Devananda.
Movie
Vidya is now busy preparing to direct a movie. The movie will be based on a story written by her during the Covid period. She will be writing the script as well.

Vidya's collection of poems 'Njanariyaathe' was released in 2020. She was also awarded a Film Academy Fellowship in 2020 for her research on the costume design history of Malayalam cinema.