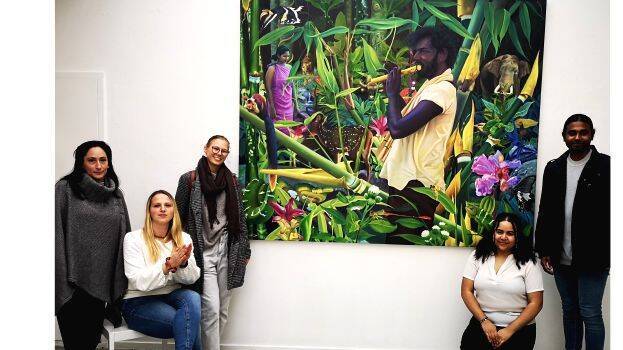 THRISSUR: When Babu tried to sell his painting 'Nilavu' (Moonlight) in Ernakulam, he was offered Rs 4 lakhs for it. Later, he received a whopping Rs 36 lakh by selling that very same painting in Sweden. Thrissur Velupadam native KG Babu sold five paintings including 'Nilavu' in Sweden and with that money he bought 60 cents of land. He is now trying to find money to build a house by selling more paintings in Sweden.
The turning point in Babu's life came when he met Swedish painter and curator Dorina Mukkaan on social media. He gave 5 paintings to her and these paintings were put for sale at an exhibition. Indian Ambassador to Sweden Tanmaya Lal and famous painters visited the exhibition. Prints of the paintings with Babu's signature were also in demand.
It was Babu who drew the portraits of around 100 late writers kept at Kerala Sahitya Akademi. Until 6 years ago, he used to get Rs 6000 for one painting. The teak frame alone cost around Rs 6,000. Later, he began to charge Rs 24,000 for a painting.

Artist invited by China
Babu is one of the five Indian artists invited by the Ministry of Culture of China
His works were appreciated at the Busan Art Fair in Korea
He is one of the three Asians out of 20 selected artists from around the world at the Box Heart Gallery in the United States.
Vijayakumar's house is located close to the bamboo forest in Pulikkanny near the Chimmini dam. He was born in a poor family and has six brothers and a sister. He left home at a very young age and started writing banners and posters and washing dishes in hotels. Though he had joined the Fine Arts School, he was unable to complete his studies. His wife Anita is also a painter.
The landslide that took place near the Chimmini dam in 2018 wreaked havoc in the region where his brothers lived. By purchasing 60 cents of land in two places in Varandarappilly, Babu is wiping the tears of his siblings.