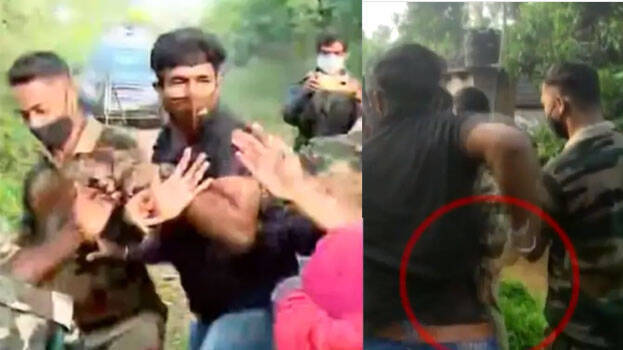 MANANTHAVADY: Amidst a scuffle that broke out between the locals and the forest officials who came to trap the tiger at Puthiyedam in Wayanad, an official took a knife to stab one from the area. When the footages of the incident surfaced, widespread protests raised against the officials.
The clash erupted after locals protested against the forest rangers for not doing anything to trap the beast despite receiving information that it had been spotted. A family spotted a tiger at Puthiyedam last night at 1 pm and informed the councillor. The locals are alleging that even after the forest department was alerted of tiger presence in a nearby area, they failed to take any action Thursday night. The locals said they did not intervene effectively as they did not have the necessary mechanisms to conduct a search. This led to clashes with officials in the area this morning. The group included wildlife warden.
A officer tried to stab a local man with a knife in between the clash. The accident did not happen just because another officer stopped him from doing that. The locals are demanding strict action against the officer.
The councillor and the locals questioned the act of the officer and the situation that led him to do that.

The tiger has so far killed 17 cows and goats in the last 20 days. The Forest department has installed nearly 90 cameras to capture the image of the tiger, only one photo was captured until now. The authorities are finding it difficult to locate the tiger using drones as there are coffee plants growing among the tall trees making it difficult to identify the beast.