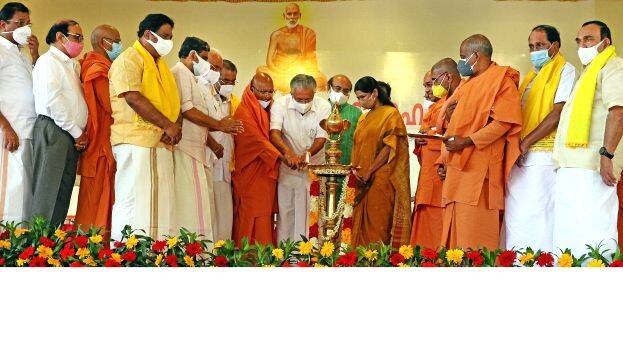 SIVAGIRI: Chief Minister Pinarayi Vijayan has said that the government is implementing development by standing firmly on the views of Sree Narayana Guru, a spiritual and social revolutionary who advised that the individual and the nation could not grow without education, trade and industry. He was inaugurating the 89th Sivagiri Pilgrimage conference.
"Public education is improved and development policies that focus on rail, road, electricity, computers and value-added agricultural products are implemented by embodying Guru's vision. Even now, there are those who could not imbibe the Guru's human and developmental views", he said.
"Sree Narayana Guru Smriti and Sivagiri pilgrimage will help in development. The Guru said that whatever religion one belongs to, it is enough that humans are good. For humans to become good means to have good means of livelihood. Nine decades ago, it was unthinkable that a spiritual guru displayed agricultural, industrial, and workmanship thoughts".
"Today, most of the bloodshed is over caste and religion disputes. At this stage, it is important to remember that the Guru's polytheism is one and the same. The Guru's secular philanthropic messages need a concerted effort to be accepted in society. This is a time when black clouds are spreading over India's secularism. Everyone fears that communalism will take hold in society in the form of fascism. Guru Smriti invigorates the struggle for secular values".
"The light shed by the Guru changed the times. There is a concerted effort to make it worse again. The Guru's message was human love. That is why it transcends the boundaries of caste and religion. The Guru said about caste that man is humanity. He made it clear that we have no caste and no religion".
"The monks should be given more time to speak at the pilgrimage meeting. Unfortunately, the distinguished guests speak more and the swamis speak less out of respect for hospitality. When Swamis say about the social relevance of Guru, it gains popularity", the CM said.
Prior to the meeting, the Chief Minister laid a wreath at the Gurudeva Samadhi.
New Kerala with a casteless community
The government is trying to implement the great messages of the Guru. The new Kerala is a casteless and secular society, as Guru said. The Chief Minister said that the university was started in the name of the Guru, who at one point said that there should be educational institutions instead of religious places, to make a difference in the field of higher education.
Praise for Kanimozhi
The Chief Minister lauded the arrival of DMK leader Kanimozhi for the pilgrimage from Tamil Nadu. Tamilians and Keralites shares brotherhood, he said.