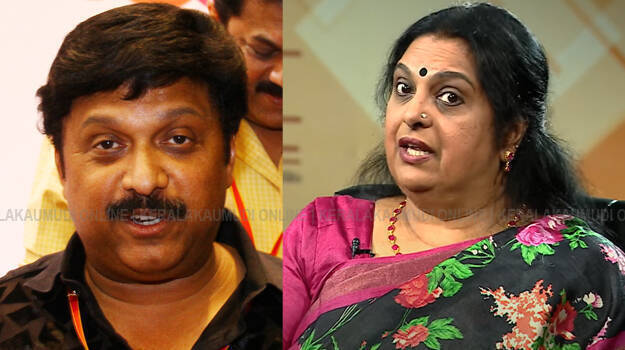 THIRUVANANTHAPURAM: Usha Mohandas, daughter of R Balakrishna Pillai, said that she had not played any dirty game against her brother K B Ganesh Kumar. She had levelled serious allegations against her brother during her meeting with Chief Minister Pinarayi Vijayan. A cabinet berth was offered to Ganesh but after Usha meeting the chief minister, it prompted the CPM for a rethink. She said she accepted the party's chief post after complying to the pressure of those who stood with her father. She said this while speaking on Kaumudy TV's weekly programme 'Straight Line'.
She said she came to the fore when the party was waning. She said she has the blessings of her father. Ganesh, who promotes himself as chairman and shows a dictatorial tendency, does not deserve to use the name of R Balakrishna Pillai. Ganesh had never supported or loved his father. She said her brother treated her cruelly and that Ganesh should give up his lust for property and money and try to regain his brotherhood.


When asked whether she has any role in Ganesh Kumar not getting a ministerial berth in the second Pinarayi Government, she said the chief minister and the front decide about the ministry. I don't think my words will stop them. As my husband an IAS official was holding an official post and as his wife I had to inform the chief minister about my brother's acts. She said her father's will had given equal consideration to all three children. However, after his death, as it was sabotaged I had to question it. She suspected foul play in the will of her father. I don't believe that my father will avoid me and share his property, she said.
Ganesh Kumar seized the money my father deposited for my 10-year-old grandchild's treatment. My grandchild needed emergency treatment. I told him to return the money in order to save the life of my grandchild. He did not comply with it, isn't this cruel, asked Usha Mohandas.