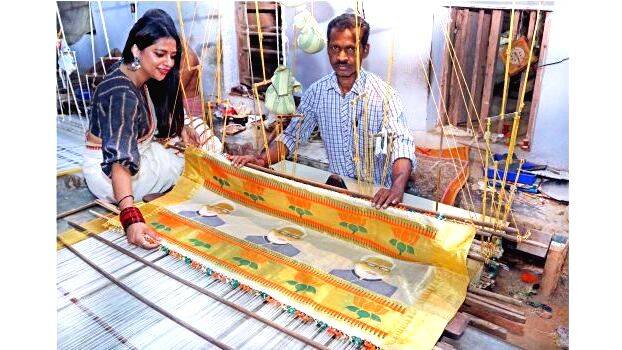 THIRUVANANTHAPURAM: Shivan is happy to be able to weave a golden shawl with the picture of Prime Minister Narendra Modi on it. The shawl is to be gifted to the Prime Minister by Union Minister V Muraleedharan.
It was planned to be given in the New Year but could not be woven in the meantime. It has been 25 years since Shivan, a native of Puliyoorkonam, Balaramapuram, took up weaving. A human face is being woven by him for the first time. It took 22 days to complete.

It is woven with a combination of golden kasavu, silver kasavu and color. Balaramapuram Pushpa Handloom made a special pit loom for this purpose. There is no machine work involved in the weaving of this shawl.

A sari was woven in Kathakali design for Aishwarya Rai in pure kasavu (silk border). It cost Rs 1.5 lakh. Pure kasavu is a blend of original gold and silver. The sari took 42 days to weave. Shivan is preparing for more such experiments.