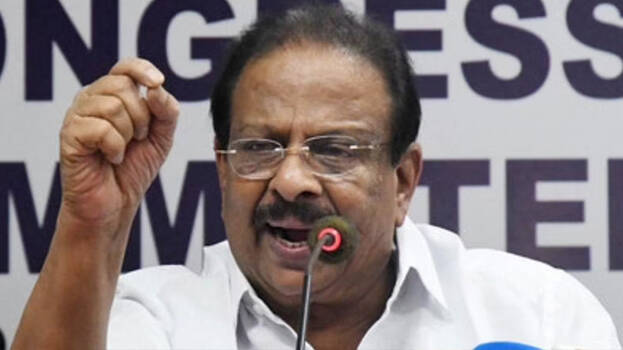 THIRUVANANTHAPURAM: KPCC president K Sudhakaran on Saturday reiterated that all the five persons arrested in connection with the murder of SFI activist Dheeraj were innocent. Sudhakaran also said that eyewitnesses were not able to say who stabbed Dheeraj.
"No one saw Dheeraj getting stabbed by Nikhil Paili. Nikhil ran in order to escape from the attack of the SFI activists. I have not condemned the incident as I'm not convinced that the crime was committed by Nikhil. We will provide legal assistance to the accused. Police should find the real culprits behind the incident," Sudhakaran said.
"Nikhil Paili was chased away by SFI activists. It is said that Dheeraj fell down after receiving a blow. However, no one mentioned that they saw him getting stabbed. How can you put the blame on KSU's head? That child (Dheeraj) was a victim of the CPM's violent politics. The loss of a life is a tragic event. I won't say anything against that family. My mind is not made of stone and iron. I am a man who preserves humanity," he said.
Sudhakaran added that CPM leadership was celebrating the death of the SFI activist. "CPM leaders celebrated Dheeraj's death by rushing to buy 8 cents of land to build a memorial. They even organised a mega Thiruvathira and lavished praise on Pinarayi Vijayan," Sudhakaran added.