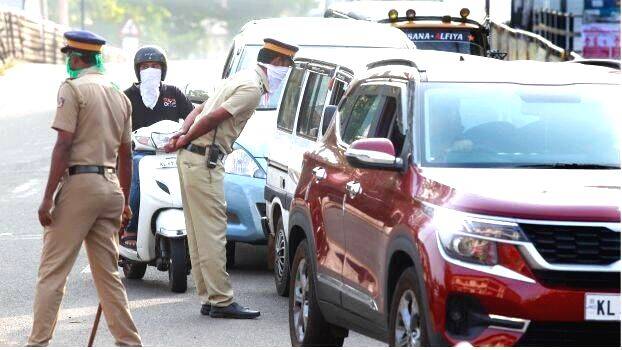 THIRUVANANTHAPURAM: The Covid review meeting on Thursday has decided that there will be no complete closure in the state. Weekend lockdowns will also be avoided. Instead, lockdown like curbs will be imposed.
It was also decided to shut schools completely. Earlier, the decision was to close only classes from 1 to 9. In the current Covid situation, only essential services will be allowed on January 23 and 30.
Mothers with children under the age of two working in government / private institutions, cancer patients and critically ill will be allowed to work from home. They have to produce a doctor's certificate.
Institutions, including businesses, malls, beaches, theme parks, and tourist centres should make sure that there are no gatherings and that Covid norms are strictly adhered to. Sanitizer should be made available in these places.
An amount of Rs 22 crore has been sanctioned to the districts from the Disaster Management Fund. In the current Covid situation, restrictions will be imposed district-wise based on the number of people admitted to hospitals. The Department of Health will have to provide information on this to the District Disaster Management Authority every Thursday. Based on this, the Disaster Management Authority will divide the districts into three groups- A, B and C. The Disaster Management Authority will announce this every Friday.
In category A, social, cultural, religious, community, political and public events, weddings and funerals can be attended by up to 50 people.
In category, no social, cultural, religious, community, political or public events will be allowed. Religious worship should be conducted online only. A maximum of 20 people will be allowed for weddings and funerals.
No social, cultural, religious, political, community, political or public events will be allowed in Category C. Religious worship should be conducted online only. A maximum of 20 people will be allowed for weddings and funerals. Movie theatres, swimming pools and gyms won't be allowed to function. All classes (including tuition centres), except undergraduate and postgraduate final year classes and classes 10 and plus two, are allowed online only. This does not apply if residential educational institutions operate on a bio-bubble model.
At present, Ernakulam, Alappuzha and Kollam districts fall into the A category. Palakkad, Idukki, Thiruvananthapuram, Pathanamthitta and Wayanad districts are in B category. There are currently no C category districts.
The CM said there is a need for vigilance across the state as the new variant Omicron is spreading fast. Most of the infected are at home. Telemedicine should therefore be widely available. Local self-governing bodies can play an important role in this. Health workers have been specially trained to ensure home care for those staying at home. Ward-level committees should focus on homes and ensure patient facilities.
The exact criteria for admission to medical college hospitals should be set. Only critically ill patients should be admitted.
The Chief Minister directed the Health Department to recruit those who had earlier served in the Covid Brigade as required.
The co-operation of private hospitals should be ensured. Make sure patients are admitted there. The use of 108 ambulances should be maximized.
The meeting decided that the seven-day special casual leave granted to those on the primary contact list need not be allowed.
Special schools do not have to close. Such schools will have to close only when a cluster forms there.
Proper adjustments should be made in the case of non-Covid patients. A Covid war room will function in the Secretariat. Teachers should be present at the school as online classes begin. This is important as it is the last phase of the academic year. Reserve accommodation facilities can be started as per the requirement of the districts. Medications and testing kits should not be in short supply.
Sectoral Magistrates may be appointed at the places where clusters are formed. Construction work can be done by maintaining social distance.
Necessary adjustments should be made as per the Covid norms to prevent transmission of the disease while sitting and eating. But family members should be to dine together.
District Collectors were empowered to make restrictions in the districts according to the special circumstances of the respective areas. The Chief Minister said in the meeting that the collectors can decide this in consultation with the Chief Secretary.